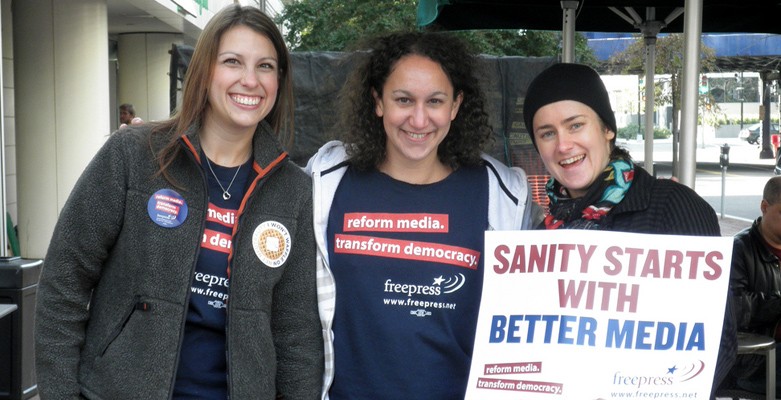 Why Give to Free Press?
I admit it: I've wondered if the $25 I kick toward a handful of nonprofits each year actually matters. Some of the groups on my list are so well-established it's hard to imagine they'll suffer much without my contribution. Others are struggling to keep their doors open, so it seems unlikely that my modest gift will help them stay afloat. But in the end I know that my contribution matters. That's why I keep giving.
How do I know my contribution matters? Because the groups I support do a great job of showing me what they've done with my gift — and what difference it's made. It also helps to remember that I'm not alone: I know that others are donating to the same causes, whether it's keeping women safe from violence, supporting local agriculture or getting a documentary film made.
There's something else: trust. I can't possibly work on every issue I care about. So I have to find other people or organizations I trust to carry out that work — and then pay them to do it on my behalf.
Take Free Press, where I direct the development team (and also donate).
Our campaigns for universal and affordable Internet access, diverse media ownership, vibrant public media and quality journalism are powered by our 500,000 activists who sign petitions, make phone calls, send letters to the editor and hold in-district meetings with their members of Congress.
But there's another essential ingredient: money. Thousands of people from every state give us gifts that are as small as $5 and as large as $150,000. Collectively we donors are a force to be reckoned with. We need to be: We're up against some of the most powerful companies in the country.
Take our recent win at the Federal Communications Commission: After years of pushing from Free Press activists, supporters and allies, the FCC ruled in April that all TV stations must put their public and political files online where people can access them and learn who is trying to sway their vote. This victory came in spite of intense lobbying from the mighty National Association of Broadcasters.
The FCC order cites Free Press research and legal analysis almost 50 times. Our activists sent 80,000 letters and petitions to the FCC and NAB to advocate for greater transparency. We wrote high-profile Op-Eds and were widely quoted in places like the New York Times. And more than 500 Free Press activists have fueled this campaign with single or monthly financial contributions.
We could not have achieved this victory without the engagement and generosity of these donor-activists. And we're counting on their ongoing support to protect the FCC order in court, organize volunteers to meet with their congressional representatives, train people to inspect the political files at stations the FCC order temporarily exempts — and much more.
But here's the most important point: All of Free Press' work — each and every one of our campaigns — is funded solely by contributions from individuals, foundations and public charities. We don't take a cent from business, government or political parties.
And that's how it should be. It's a critical part of how we stay true to our mission and how we know that when we testify in Congress or at the FCC, speak to the press or meet with policymakers, we're truly representing the public. Our donor-activists — everyday people, not well-heeled corporate lobbyists — get that the systemic change we're fighting for requires financing just as much as it requires petition signatures, sound policy proposals and savvy legal work. They understand that their gifts are vital — no matter the size — because they're part of a larger effort to amplify the public's voice in Washington. And they know this is a long-haul fight, so most keep on giving.
What's more, our donors know that they can trust us to use their gifts well and show them the results. (It's worth noting that Free Press has earned a four-star rating from Charity Navigator for our fiscal management, and that an average of 87 cents of every dollar donated to Free Press over the past three years directly funded our programs.)
So in the end, it's pretty simple: My coworkers and I rely on the financial support and engagement of those who share our vision for better media. And our donor-activists trust us to craft winning campaigns. Together, we're getting the job done.
---
If you would like to support Free Press' work, please consider a donation to the Free Press Action Fund. Thank you.