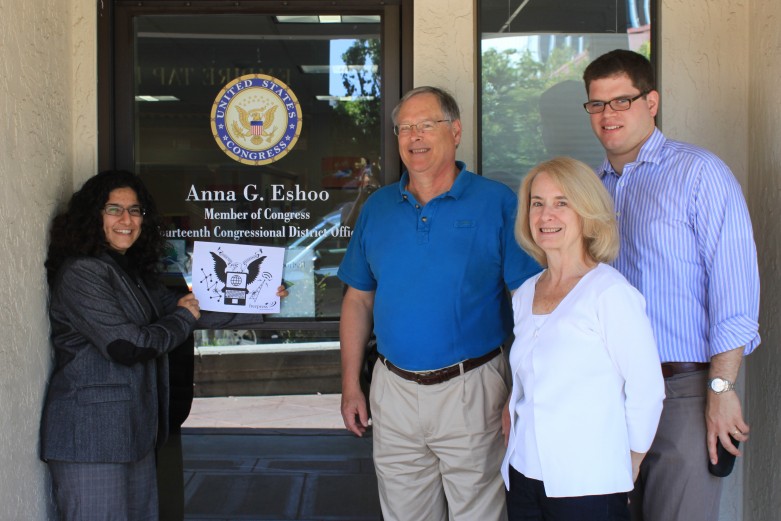 Meeting With Rep. Eshoo's Office Yields Big Rewards
Traditional media sources tend to frustrate me. The assumption that the audience is a monolithic group with the same background means details are often left out, biases are re-enforced and issues are presented simplistically. That's one of the many reasons I've embraced the Internet. Its participatory culture allows me greater agency, gives me access to more information and connects me to people from all walks of life.
I'm an activist and a Silicon Valley native, and the Internet has played a huge role in my life. (And if you're reading this, the Internet probably plays an active role for you.) So I was quick to support the Declaration of Internet Freedom — five principles that outline a vision of the open Internet.
Thankfully I'm not the only one who cares. Last week I joined three other Free Press activists in a meeting with Patty Kim, the deputy chief of staff to Rep. Anna Eshoo, at the congresswoman's office in Palo Alto, Calif. We were there to discuss what an open Internet means to us. Whether we were motivated by a fear of consolidation and an information monopoly, privacy concerns, business interests or community interests, we all came to the table to support an open Internet.
While recent activism in this arena has been anti-SOPA, anti-ACTA and largely reactionary, we're finally seeing a proactive stance for the Internet, and all of us wanted to be part of it.
We asked Kim if Rep. Eshoo would join three fellow members of Congress — and more than 2,000 organizations and companies — in signing the Declaration. She said she'd get back to us.
Then on Friday I received an email informing me that Rep. Eshoo had decided to support the Declaration of Internet Freedom.
It sounds simple: Email your members of Congress. Meet with their staff. Tell them why you care, and what the implications of policy are in your life. It's easy to feel that the political system is broken — especially in this era of nasty attack ads and out-of-control Super PAC spending. But on this issue I was pleasantly surprised. My representative wants to better represent me and my community and cares about our future. Yours probably do too — but you need to talk to them to find out.
Photo: The author (left) and other Free Press activists outside Rep. Eshoo's office