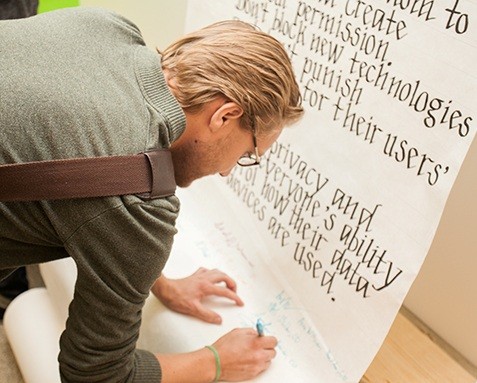 Entrepreneurs, Farmers and Students Bond With the Declaration of Internet Freedom
The Internet is part of how we work, play, learn — even eat. That's what makes Internet freedom so important.
One way we work to protect online openness is by telling stories about the ways in which we use the Web to support our businesses, connect with our families and learn new skills.
Earlier this month, reddit staff, startup founders and open Internet activists piled into Sen. John McCain's former campaign bus to tour the Midwest and collect those stories. A giant handwritten copy of the Declaration of Internet Freedom accompanied them on the journey to meet local entrepreneurs and students who were ready to join the fight for a free and open Internet.
The tour kicked off on Oct. 3rd. in Denver at a viewing of the first presidential debate. Since then, the group has traveled from Boulder, where participants discussed the role politics play in creating startups, to Lincoln, Neb., where folks spoke to students about the open Internet's impact on education. From there the bus went to Des Moines, Iowa, where a bipartisan "uncaucus" was held, to Iowa City for Startup Weekend.
Last week, the group made it to Kansas City, Mo., and heard from the local startup community about how the Internet has enabled their businesses to thrive. After that it was off to St. Louis, where tour staff met a small farmer using Aglocal, a Kansas City startup, to connect his products with local buyers. The tour next held a panel discussion about the "Future of Local Communities" in Lexington, Ky. The tour concluded in Danville, Ky., with a vice presidential debate viewing party.
After meeting folks across the country who are driving online innovation, the Internet 2012 Bus Tour has shown just how invaluable the Web is — not just for entrepreneurs, but for students, farmers and everyday Americans. Far from a partisan issue, Internet freedom is something we all need to get behind for our society to move forward.
---
If you care about protecting the open Internet, please consider a donation to the Free Press Action Fund.