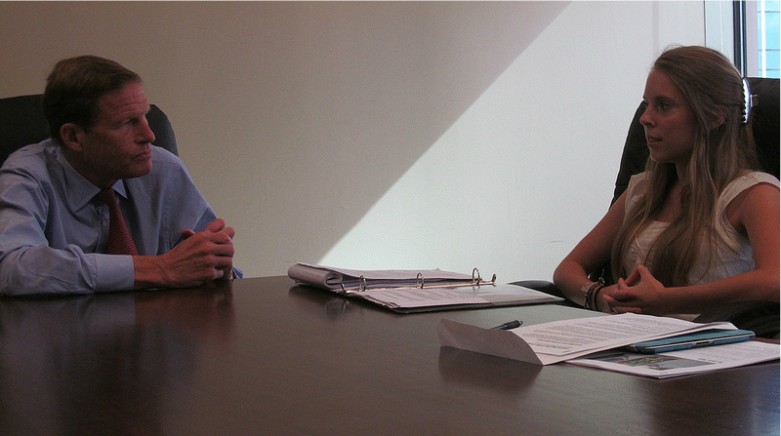 Why Is My Cable Bill So High?
UPDATE: On July 23, 2013, Sen. Blumenthal signed on as a co-sponsor of the Television Consumer Freedom Act.
---
In May, I graduated from the University of Massachusetts Amherst with a journalism degree and a mountain of student loan debt.
My roommates and I are careful about sticking to a budget — and every month we're left wondering why our cable bill is so high. We watch about 10 channels but pay for over 100. And because Comcast dominates the market where we live, we don't have the option of switching to a more affordable provider. So we're left frustrated and weighing whether or not to keep cable or cut the cord.
Last week I decided to do something about it. I joined a group of seven Free Press activists meeting with Sen. Richard Blumenthal to ask him to co-sponsor the Television Consumer Freedom Act. We all see the bill as a solution to soaring cable rates because it offers an a la carte cable option that would allow consumers to pay for just the channels they want to watch. This approach would ultimately bring relief to cable subscribers in the form of lower prices.
An a la carte option could also lead to support for a greater range of programming. What I see on my TV now is recycled content from the same voices emitting the same messages and representing the same people. The market needs to change to promote innovation and a more balanced representation of voices. Forced bundling — which requires customers to pay for entire packages of channels — keeps independent voices off the dial. The current system is unfair and anti-competitive.
Right now the cable companies control the market. An a la carte option, on the other hand, would give consumers more choices.
And as I told Sen. Blumenthal, an a la carte option would help recent college graduates — and others struggling to pay their bills.
Tell your senators to support the Television Consumer Freedom Act. Better yet, visit them this summer and advocate in person.
Original photo by Free Press activist Don Noel