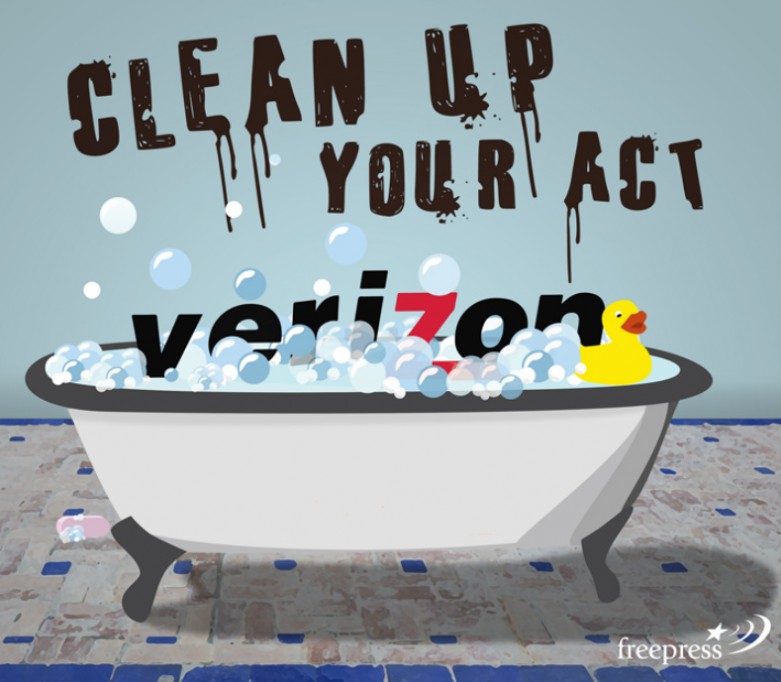 Verizon Is Grossing Me Out
At a certain point you just get sick of what mega corporations are trying to get away with.
Take Verizon. Here's a company that makes its money selling Internet access … yet it wants to break the way the Internet works.
Not a lot of people know what the telecom giant had to say when it was in federal court in September, battling the Federal Communications Commission over its open Internet protections. But it was in court that the company laid bare its plans to take the open Internet that we all love and turn it into a tiered, cable-TV-like system where you have to pay more for better access.
This is the same company that has helped the National Security Agency conduct its surveillance programs.
This is a company, in other words, that needs to change.
So we did a funny thing last week. We emailed our members and asked them to help us send soap to Verizon — yes, actual soap — to get the company to clean up its act.
And you know what? People got into it. Much more than we anticipated.
Close to 13,000 people have already signed our petition telling Verizon CEO Lowell McAdam that he needs to change his company's evil ways.
Is this absurd? Yeah, OK. But a little absurdity can go a long way. And sending soap to Verizon's doorstep isn't any more absurd than what the company has done, like blocking text messages from NARAL Pro-Choice America and telling a federal court that it wants to prioritize Web traffic from companies that can afford to pay higher tolls.
Absurdity is meant to get your attention. So if we have yours, please join the thousands of other people who are sick of corporations ripping them off and colluding with the government. Together we can deliver our message, make a whole lot of noise and take this fight to the next level.
Tell Verizon to clean up its act. And trust me: Delivering tens of thousands of signatures and sacks of soap to the corporate giant will be a hoot. We promise to document the excursion and keep you in the loop.