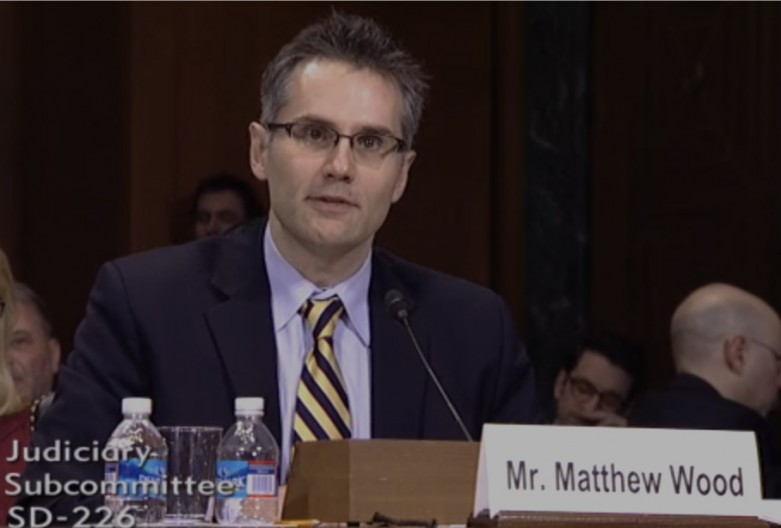 Free Press Action Fund's Matt Wood Tells the Senate to Boost Wireless Competition
There's a reason your cellphone bill gives you heart palpitations every month: There's hardly any competition in the U.S. wireless market. And without any real competition, companies like AT&T and Verizon can do whatever they want to streamline your wallet.
On Wednesday, Free Press Action Fund Policy Director Matt Wood testified before the Senate in a hearing on the wireless market. He urged the Senate to promote competition and protect consumers.
His full testimony follows below:
Chairman Klobuchar, Ranking Member Lee, and esteemed members of the Subcommittee: Thank you for the chance to testify today on competition in the wireless market.
My name is Matt Wood, and I'm the policy director for Free Press, a nationwide, nonpartisan nonprofit with more than 700,000 members. Free Press works for media and technology policies in the public interest, like promoting affordable wireless access for everyone, because these communications tools are so important for free expression, our democracy, and our economy.
The wireless market today shows signs of improved competition, especially when compared to some other telecom sectors. Positive steps taken by the DoJ and the FCC — like blocking the disastrous AT&T/T-Mobile deal and encouraging divestitures in the Verizon/SpectrumCo deal — were grounded in the law and in common sense, and we've seen good outcomes from them.
Still, the FCC hasn't done enough to follow Congress' command to promote economic opportunity and competition. The FCC must do more about concentration in the wireless market, which qualifies as "highly concentrated" under DoJ guidelines.
Verizon and AT&T exercise significant market power. That leads to the loss of untold billions of dollars per year in consumer surplus. A few facts and figures show the impact of concentration on a wireless market that is still top heavy. AT&T and Verizon have more than 68 percent of wireless subscribers in the U.S., but rake in more than 82 percent of the entire industry's profits. Verizon alone enjoys nearly 50 percent of the industry's earnings.
With Sprint and T-Mobile, those four companies control 98 percent of the country's wireless customers. This type of concentration is bad for consumers. For example, many customers today pay more for plans that are worse than what they had when smartphones came onto the scene.
In 2008, an AT&T iPhone customer could buy 450 voice minutes, 200 text messages and unlimited data for $60 per month. Today she'd pay $95 for a plan with unlimited voice and texts, but just 2 gigabytes of data. That's a 58 percent rate hike. Verizon's comparable plan is little better, at $90 a month.
Wireless customers also shell out an absurd amount for their phones, once you know what they pay back on the so-called "subsidies" some carriers still offer. Compared to budget-carrier plans with the same allowances, that $95 AT&T customer might pay an extra $1,200 during a two-year contract, swamping the $450 phone subsidy. In reality, it's a two-year loan — at rates that would make a payday lender blush — with an annual interest rate of 120 percent.
The FCC (and Congress) also must act to give people more control over the tools we use to stay connected. When people can do more with devices they buy, their service choices go up and their out-of-pocket expenses go down. Unlocked phones that work with and roam on other carriers' networks increase competition by letting customers move around.
The bills sponsored by so many of you were a welcome spur to the FCC's unlocking measures. And the "Smartphone Theft Prevention Act" sponsored by Chairman Klobuchar, with Senators Hirono, Mikulski and Blumenthal, was welcome news for consumers who pay so much to replace stolen devices.
Devices shouldn't take away customers' freedom to take their business elsewhere. Neither should spectrum imbalances that stem from AT&T and Verizon's status as early spectrum recipients.
Rather than focusing solely on the upcoming incentive auction, Free Press asked the FCC to restore sensible limits for all spectrum holdings. The FCC shouldn't (and can't) keep anyone out of the auction, but the agency should recognize the superior value and coverage afforded by low-band spectrum. There are other imbalances too, based on AT&T and Verizon's legacy as wireline monopolies. 
The FCC should move ahead at last on special access, and correct assumptions it made nearly 15 years ago. These mistakes still harm wireless customers and competition today. AT&T and Verizon can (and do) raise the cost of wireless alternatives by overcharging their rivals to carry traffic from the tower back to the network.
Last but not least, the FCC must open more spectrum for unlicensed uses, like Wi-Fi and other innovations. A study this month estimates unlicensed use added almost $230 billion to the U.S. economy in 2013 alone. New entrants and licensed carriers alike use Wi-Fi to benefit consumers.
Wireless competition today shows some signs of life. That's due, in part, to smart intervention by antitrust authorities and the FCC. Competition has improved because of — not in spite of — well-timed oversight. That's why the FCC must prevent spectrum concentration, promote unlicensed use of spectrum, and put people in control of their wireless devices.