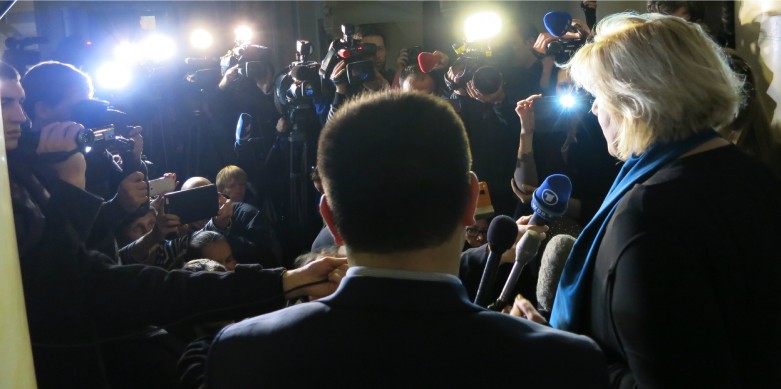 A Free Press Crusader on the Crimean Front Line
Within three days of the takeover of the Crimean parliament, Dmitry Polonsky, a leader of the pro-Kremlin Russia Unity Party that seized power, urged a rally of supporters to watch only pro-Russian state TV.
All other outlets, he said, are spreading "mendacious" lies about Russian interference in Crimean affairs.
But forces aligned with Polonsky and the Kremlin did more than just switch the channel. Over the past 72 hours, armed men stormed Ukraine's 5 Kanal TV, Black Sea TV and One Plus One TV and took the stations off the air. Those outlets are now transmitting pro-Moscow news from Russia's Rossiya 24 TV.
Earlier, several dozen masked gunmen thought to be Russian militia seized control of the Crimean Center for Investigative Journalism, telling staff there that they had to start reporting "true information."
This follows a bloody three-month period in Ukraine, where nearly 200 journalists and press workers were beaten, harassed and intimidated. "We are seeing cases of intimidation, beatings and media censorship every day," said Dunja Mijatovic, the representative from the OSCE Office for Freedom of the Media.
Mijatovic's mandate is to advocate for full compliance with OSCE media freedom principles among the organization's 57 participating member states.

She spent the past week shuttling between meetings with journalists in Kiev and Simferopol, the Crimean regional capital. Her efforts to enter a Simferopol hotel, where local reporters and editors were waiting to meet, were briefly delayed after a mob of some 50 people blocked the entrance chanting "Russia, Russia."

Confrontation doesn't ruffle Mijatovic, who hails from Sarajevo. She experienced first-hand in Bosnia and Herzegovina the suffering of people whose views were suppressed during the Bosnian War. She has since devoted much of her career to protecting freedom of expression and the media in conflict regions.

As the OSCE Media Freedom representative, Mijatovic has the ear of official delegates from the member states, which include Russia and Ukraine. For some member states hers is a hard pill to swallow.
"In many cases we have been successful in getting the authorities to listen to our advice," Mijatovic said during an interview in New York City last week that was conducted prior to her visit to Ukraine.
Still, the general trend for press freedom among OSCE states is mixed. "It is sad that we are fighting the same problems as we did 10 and 15 years ago," Mijatovic said. "Journalists are still being jailed and physically attacked for what they write or say; Internet freedom is becoming a scarce resource as websites are blocked and laws are adopted that limit free expression on the Internet."
During her meetings in Kiev, Mijatovic pressed officials investigating the murder last month of journalist Vyacheslav Veremyi, who was dragged from his taxi, beaten and shot by unknown assailants after returning from protests in the city center.
Mijatovic's office has intervened in over 150 different cases concerning media freedom threats in 36 of the 57 OSCE countries.
"We're also engaged in quiet diplomacy where I raise urgent media freedom issues and I frequently address these issues directly with the authorities in question," said Mijatovic. In several countries she's been granted access to visit jailed journalists and worked with authorities to help secure their release.
"Coming from Sarajevo, I am aware that media potentially can play a distracting role and how important it is for citizens to receive information from as many sources as possible to make well-informed decisions," Mijatovic said. "The state cannot be the only source of information and the negative effect of propaganda must be avoided."
Mijatovic says much work lies ahead in Ukraine to ensure that journalists can continue working freely. On Friday, she reported a significant victory in Kiev, where Ukrainian parliamentarians withdrew an earlier proposal to ban Russian television channels. Ruling members of Crimea's Russia Unity Party should follow suit and reverse their call for an independent TV news blackout. 
But the situation is far from ideal, says Mijatovic, who sees increasing attacks on journalists and attempts to filter and block Internet access as the two most worrying trends.
"There are definitely forces in motion that seek to hinder the advancement of human rights online," she said. "The Internet [is] the new front line in the fight for freedom of expression and media freedom worldwide."