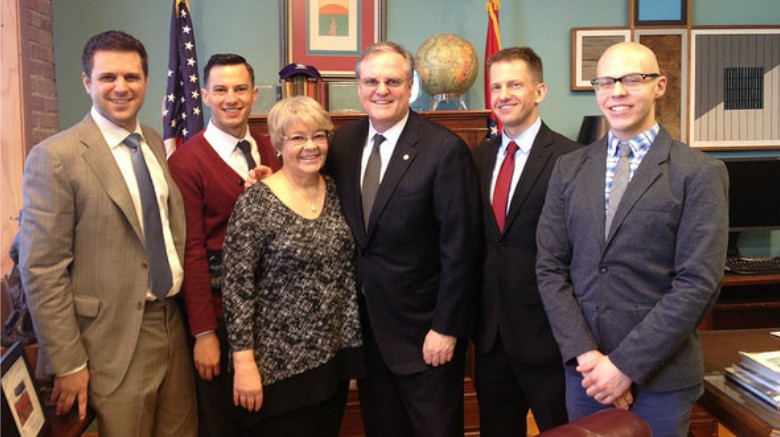 Sound Off: Tell Your Member of Congress to Restore Net Neutrality
Free Press members around the country are standing up for the open Internet and calling on the Federal Communications Commission to restore Net Neutrality.
Just last week, delegations of members in Arkansas, California, Hawaii, Vermont and other states met with their elected officials and discussed the need for the Internet to remain an open, neutral platform that preserves free speech.
They discussed how they rely on the Internet to telecommute, express themselves, and access news and information they can't find anywhere else. Our activists want the Internet to remain a tool for democracy and justice and fear that the companies that provide our Internet connections will instead turn it into a tool for censorship and discrimination.
Stories like these matter to policymakers and often inspire them to do the right thing. In fact, meeting with our elected representatives is one of the best ways to influence the policymaking process. And it feels pretty great. As one Vermont member put it, "It just felt good showing up, speaking our truth and doing our civic duty."
Right now the Internet we love and depend on is under attack — and we need our members of Congress to tell FCC Chairman Tom Wheeler to reclassify broadband and craft strong Net Neutrality rules that will hold up in court. (We've written more about that here.)
In fact, we've got all the tools you need to set up a meeting where you live. For starters, check out our tips and tricks for setting up a meeting, our Net Neutrality issue brief and our grassroots lobbying guide. Then schedule your meeting and tell us about it so we can support you.
Maybe a meeting isn't your thing? No worries. You can call your member of Congress or write a letter to the editor of your local paper. Both are effective ways to share your stories with members of Congress, who keep track of what their constituents are writing and calling about.
The threats to the Internet right now are huge — no Net Neutrality, overreaching mass surveillance, big cable mergers and slow broadband speeds — but we can fight back. So join Free Press members around the country and make your voice heard.
Need inspiration? Check out some photos from last week's meetings.
Free Press Action Fund activists prior to their meeting with Sen. Patrick Leahy's office in Vermont:
---
Allies of the Free Press Action Fund met with Rep. Barbara Lee in Oakland, Calif.:
---
Image at top of post: Free Press Action Fund activists met with Sen. Mark Pryor in Little Rock, Ark.