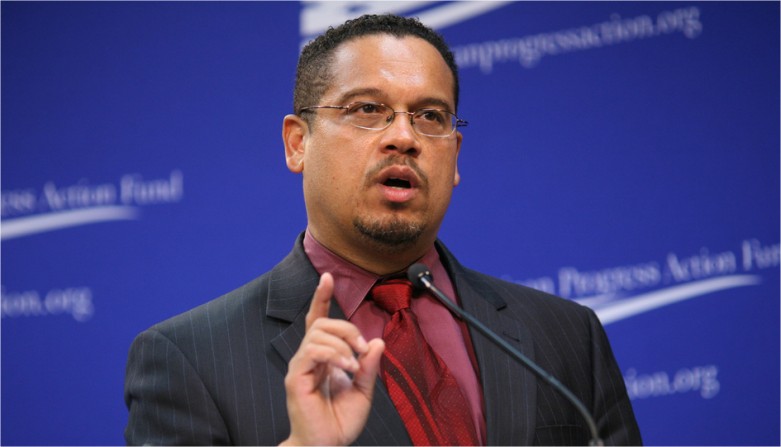 36 Members of Congress Speak Up to Save the Internet
The drumbeat calling for FCC Chairman Tom Wheeler to scrap his plan to allow rampant discrimination online continues to grow louder.
This afternoon, 36 Democrats from the House of Representatives joined the choir. In a letter to Wheeler, they called on the chairman to adopt strong Net Neutrality protections that would safeguard the principle that ISPs like AT&T, Comcast and Verizon should treat all Web traffic equally.
The chairman's plan, however, would allow ISPs to create fast lanes online for companies that can pay up — and slow lanes for the rest of us.
In the letter to Wheeler, Democrats called on the Commission to adopt rules that would prevent a pay-for-play system and urged the agency to treat ISPs as common carriers. The letter was authored by Rep. Raul Grijalva and Rep. Keith Ellison (pictured), who co-chair the Congressional Progressive Caucus. Among the other signers were civil rights icon Rep. John Lewis and Reps. John Conyers, Mike Honda, Barbara Lee and Jose Serrano.
"We urge you to adopt strong and enforceable open Internet rules that proactively protect Internet users from unfair practices, including the blockage of lawful traffic or discrimination among content providers by Internet Service Providers (ISPs)," the letter reads. "The rules must preserve the Internet as the open platform that it is today by recognizing our nation's communications providers as common carriers. Without strong protections, the Internet could devolve into a closed platform in which those who pay the most can overwhelm other views and ideas."
The congressional letter is the latest salvo against the chairman's plan. Last week, 11 Democratic senators called on the chairman to treat ISPs as common carriers.
Two of Wheeler's fellow FCC commissioners have also raised serious reservations about his proposal. In addition, more than 3 million people, nearly 150 Internet companies and almost 100 organizations have called on the Commission to adopt rules that ban online discrimination.
The drumbeat will grow even louder tomorrow when Free Press and its allies rally outside the FCC, where the chairman is expected to introduce his proposal.