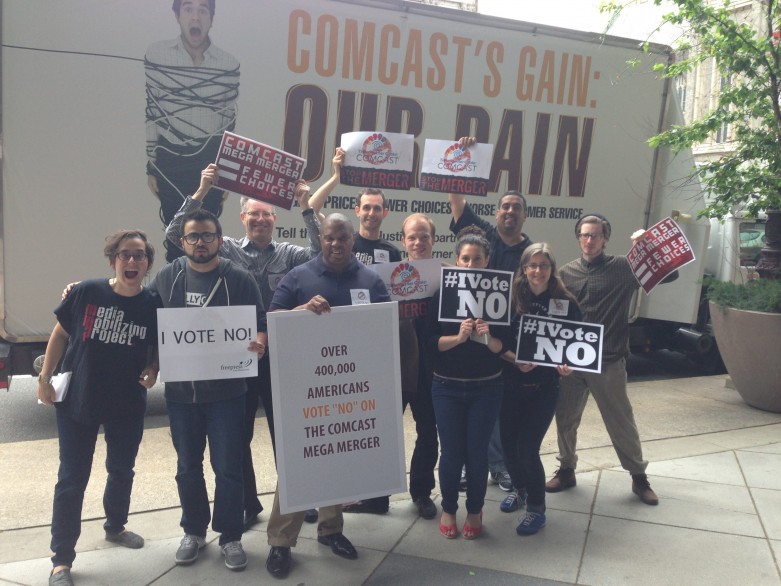 The People Vote NO on the Comcast-Time Warner Cable Merger
Earlier today I gathered with 100 activists and allies at the epicenter of Comcast's operations in Philadelphia.
Our message? Stop the Comcast-Time Warner Cable merger.
While the conglomerate's shareholders voted on various items inside, activists voiced their opposition outside by casting their votes against the deal.
And the people voted no. Others joined the voting online: Click here for a glimpse of the many activists opposing the merger.
As I talked with protesters about what motivated them to attend the rally, every person had a slightly different story — but the common theme was the need for a just media system rather than one where corporate gatekeepers call all the shots. Activists like us around the country are calling for a media system that reflects our needs and serves the people, not corporations.
In fact, I heard from a few Free Press members.
Myron said that Comcast is notorious in Philadelphia for its poor customer service and high prices and that there is no way that this merger could possibly serve the public interest. Richard said that this merger would exacerbate an existing problem: the lack of consumer choices for broadband providers. And Jennifer noted that major mergers reduce competition and hurt consumers.
Of course, these are just a few voices from here in Philly. But I know there are millions of other people who feel the same way. Together we're a movement of people who want policies that support our rights to connect and communicate. And we want policymakers to listen to the voices of everyday people.
That's why I carried more than 400,000 signatures opposing the merger into the shareholders' meeting and delivered them to Comcast executives. The signatures were gathered by Free Press and our allies the Center for Media Justice, Common Cause, Consumers Union, CREDO Action, ColorOfChange, Daily Kos, Demand Progress, the Media Mobilizing Project and Working Families.
We left the shareholders' meeting chanting, "Comcast has a tower, but the people have the power!"
Today's action was part of a larger campaign to stop the merger. You can join us by reading more about the merger here, sharing the video from today's rally and telling the Federal Communications Commission and the Justice Department to block the merger. Stay tuned for more to come!
Watch and share the video. And scroll further down for pics of the protest!
Check out these rally photos from activist Joe Piette and click here for additional photos: