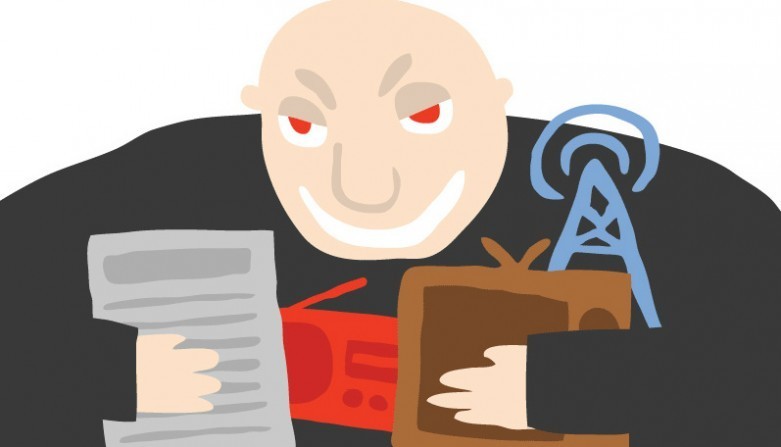 Merger Mania? Not So Fast
Memorial Day capped a tough week for merger-crazed media companies as two leading newspapers came out against their multibillion-dollar plans to hook up.
Last Monday, Los Angeles Times commentator David Lazarus blasted AT&T CEO Randall Stephenson for claiming that his company's proposed merger with DirecTV would be a "pro-competitive and pro-consumer transaction."
"Oh, please," wrote Lazarus:
So when Stephenson says "pro-consumer," what he really means is "pro-company." His company, in particular.

Craig Aaron, president of the advocacy group Free Press, said AT&T and cable giant Comcast, which has announced its own $45-billion takeover of Time Warner Cable, have nothing up their sleeves except the tired old notion that bigger is better. "The captains of our communications industry have clearly run out of ideas," he said. "Instead of innovating and investing in their networks, companies like AT&T and Comcast are simply buying up the competition."

Consumers are the last thing they're thinking about, he said.

"These companies don't care about providing better services or even connecting more Americans," Aaron declared. "It's about eliminating the last shred of competition in a communications sector that's already dominated by too few players."

Bingo.
Meanwhile, the New York Times editorial board is laying into Comcast for making similar pro-competitive claims about its bid to take over Time Warner Cable:
The company argues that this deal would not reduce choice because the company does not directly compete with Time Warner Cable anywhere. Comcast would face plenty of competition in high-speed Internet service, they say, from telephone and wireless companies.

The reality is far different. At the end of 2012, according to the FCC, 64 percent of American homes had only one or at most two choices for Internet service that most people would consider broadband. Wireless services can handle streaming video, but many customers of Verizon or AT&T would blow through their monthly wireless data plan by streaming just one two-hour high-definition movie, at which point they would have to fork over extra fees. 
Indeed, both mergers would give two bloated companies way too much control over the information we access on TV and online. That's why we're telling the Federal Communications Commission and the Justice Department to stand up to industry, get on the side of consumers and reject these deals.
Join us: Help give regulators the spine to act.