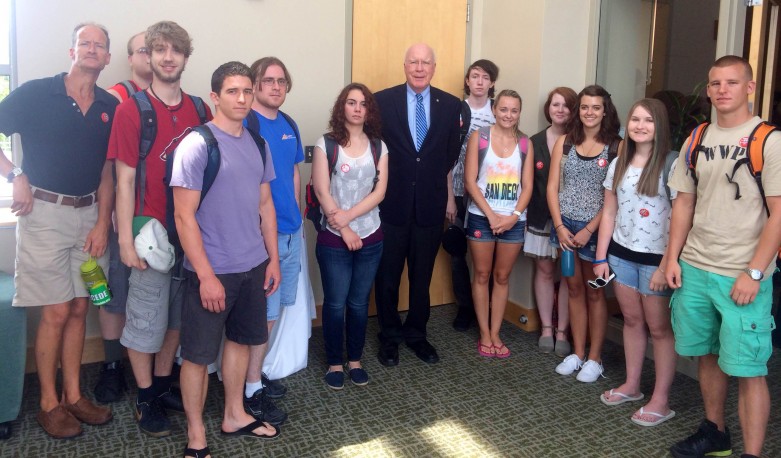 Sen. Leahy Brings Judiciary Committee Home to Vermont
"The fate of the Internet will be decided in the next few months, and, once decided, will be hard, if not impossible, to undo." — Former FCC Commissioner Michael Copps
When it comes to protecting Net Neutrality, Vermonters mean business. Over 100 residents, supporters and concerned citizens came out on a Tuesday morning at 10 a.m. to witness Senator Leahy's Judiciary Committee field hearing at the University of Vermont in Burlington. The hearing was a chance for the committee to hear from Vermonters who will be directly affected by FCC Chairman Tom Wheeler's proposed rule to create "fast lanes" and "slow lanes" on the Internet. 
Sen. Leahy has expressed clear support for preserving Net Neutrality. Last month, along with Rep. Doris Matsui of California, he introduced the Online Competition and Consumer Choice Act, which would prohibit the sort of paid prioritization that would be possible under Wheeler's proposal. Leahy opened Tuesday's hearing by stating that "it is crucial that we get [Net Neutrality] right. We don't want the Internet divided into the haves and the have nots." The FCC's current proposed rules, he said, "contradict every principle the Internet is about."
Rep. Peter Welsh, in attendance at the invitation of Sen. Leahy, emphasized the "economic urgency" and importance of an open Internet to rural states like Vermont.
Everyone who spoke at the field hearing urged the Judiciary Committee to oppose Wheeler's current proposal. Former FCC Commissioner Michael Copps captured the urgency of this moment when he said "The fate of the Internet will be decided in the next few months, and, once decided, will be hard, if not impossible, to undo." He urged the committee to also "say no to [media] mergers and consolidations," declaring that mergers and the monopolies they create are the main reason the U.S. is falling behind globally in Internet quality and services.
Vermont State Librarian Martha Reid testified that libraries in rural towns are often the only places that offer free high-speed Internet, attracting everyone from business owners to job seekers. "An open internet is vital to free speech, equal access to information and education," she said. 
Vermont Country Store proprietor Cabot Orton said that although his grandfather started their business with a hand-mimeographed mail-order catalogue and free rural mail delivery, their success today depends on presenting an exceptional online experience to customers, something that can be achieved only through preserving Net Neutrality. "We don't want to be held ransom by the telecommunication giants just to be able to deliver the same services as international behemoths," he said. "All we in the small business community ask is to preserve the Internet exactly as it is right now."
Logic Supply Chief Operating Officer Lisa Groeneveld, who started her computer system manufacturing business in her apartment and now nets over $15 million in yearly revenue, said that her company could pay for "fast-lane" priority if it was forced to, but it would come at the expense of research and development, growth, and customer service. 
The energy in the room and support for Net Neutrality were palpable. When the audience spontaneously applauded after each testimony was given, Sen. Leahy said that hearings in Washington were not as interesting or fun. He also noted that in Senate hearings there is a "no-applause" rule, but the hearing attendees were too enthusiastic to abide by it.
And given that the senator's office confirmed the field-hearing details only a week in advance, the packed room made it clear that Vermonters take this issue seriously. Net Neutrality, mega mergers, and the importance of preserving equal Internet access touch everyone.
From
Albuquerque
to
Washington
, people are sending the message that they will settle for nothing less than
real
Net Neutrality. Let's be sure Chairman Wheeler and the rest of his agency
get that message
, too.
Photo by Rob Williams