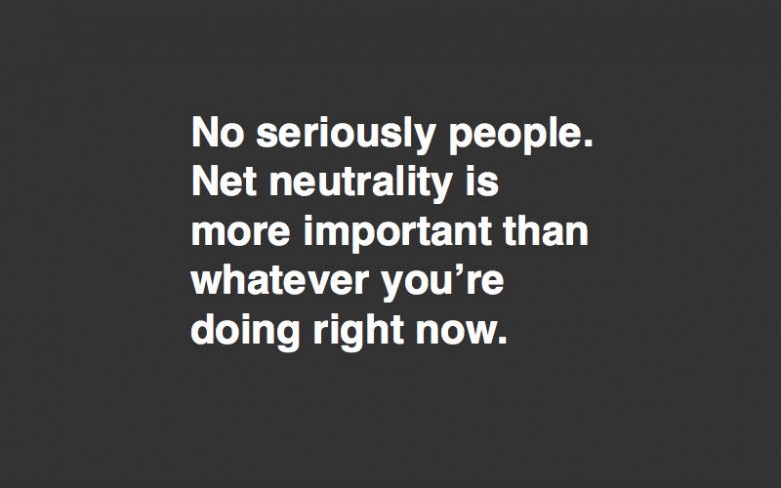 A Thousand Calls Per Minute: The #InternetSlowdown Takes Off
The spinning wheel of death could become an all-too familiar sight if FCC Chairman Tom Wheeler ignores the major opposition to his plan to allow discrimination online. That's why hundreds of businesses and thousands of public interest organizations are participating in today's 24-hour Internet Slowdown: to show what a world without Net Neutrality would look like.
Participants are displaying a symbolic still-loading icon on their sites to express their support for strong open Internet protections. The icon links to actions pushing the White House and members of Congress to speak out — and urging Wheeler to drop his plan. And already the slowdown is generating 1,000 calls per minute to Congress.
The Free Press Action Fund teamed up with Demand Progress, Engine Advocacy and Fight for the Future to organize the protest — and the ACLU, Greenpeace USA, MoveOn and SumOfUs are among the many organizations signed on for today's event.
Among the companies and websites on board are big names like Netflix, Tumblr, Etsy, Kickstarter, Mozilla, reddit, Dropbox and Upworthy.
We're more than halfway through the slowdown — and already it's making big waves:
News outlets like the BBC, CNN, Democracy Now!, NPR, Politico, Salon, the Washington Post and USA Today are all covering the slowdown.
Politicians like Sens. Angus King, Ed Markey, Bernie Sanders and Ron Wyden — plus the Democrats on the House Energy & Commerce Committee — are getting in on the act.
Buzzfeed's got the ultimate listicle: 18 reasons everything on the Net should be treated equally.
Vimeo has a great video featuring buffering and pixelated images — the kind of fare that could become standard in a post-Net Neutrality world.
Tumblr has an awesome video too.
Clickhole has activist koalas who are refusing to load.
Etsy has an embroidered spinning wheel.
Tons of people are tweeting, sharing images and blogging, and thousands are taking action.
There's still plenty of time for you to take part. Click here to take action, click here for sample tweets and images you can post, and click here to add the sloading icon to your own site.
Thanks for being part of this fight!