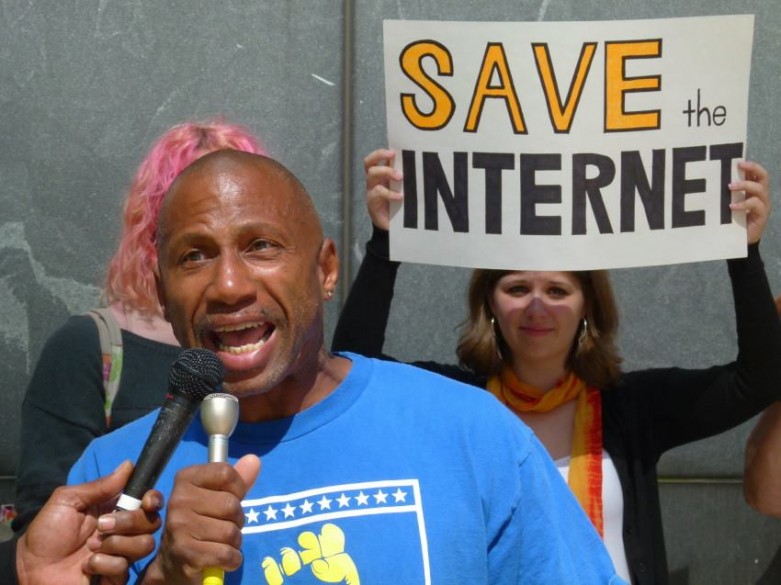 Fighting for the Open Internet in Philly
Click here to read about our NYC rally.
Today's the final day to comment on FCC Chairman Tom Wheeler's plan to create a two-tiered Internet — and at lunchtime I gathered with a crowd of 100 activists outside Comcast's headquarters in Philadelphia.
We were there for a Free Press rally to save the Internet ... and we came to demand real Net Neutrality and oppose the Comcast-Time Warner Cable merger.
Joseph Torres of Free Press, Bryan Mercer and Hannah Sassaman of the Media Mobilizing Project, Vanessa Graber of Common Frequency and Chris Rabb of Temple University all gave brief speeches, and then people in the crowd spoke out. We livestreamed everyone's testimonials to a digital billboard our friends at Fight for the Future stationed right in front of the FCC building in Washington, D.C.
"So far," said Torres, "Tom Wheeler has sided with the big broadband companies, demonstrating just how out of touch he is. He doesn't seem to understand why millions of people have called on him to protect real Net Neutrality by treating Internet service providers as common carriers."
Other speakers echoed this theme, noting that Wheeler's proposal would allow discrimination online and destroy the Internet's level playing field.
Temple Strategic Management Professor Chris Rabb emphasized how important it is to keep the Internet as a space shaped by everyday users. "[The Internet] is our smartphones, it is black Twitter, it is Netroots, it is the blogosphere, it is all of us," he said. "It does not belong to one man, to one corporation, to one industry, it is ours. It will always be ours, if we fight for it."
In the last few months, millions of people have flooded the FCC with comments imploring the agency to save Net Neutrality. The FCC has received more public comments on Net Neutrality than on any other issue in its history. But the ISPs have a lot of power. Who will the FCC listen to?
The agency is supposed to serve the public interest, and in between speeches, the crowd chanted, "Listen, listen, FCC! The Internet belongs to me!"
If the agency ignores the public and signs off on Comcast's plans to take over Time Warner Cable, the company — a longtime Net Neutrality violator — will have that much more control over our communications.
During the speakout, a Temple Law School professor who'd practiced antitrust law for more than 50 years called the merger "the clearest violation of antitrust I have ever seen." He went on to discuss the horrible customer service he'd endured from Comcast — a story any Comcast customer could relate to.
A puppet representing Comcast CEO Brian Roberts made a guest appearance at our rally along with a globe wrapped in Ethernet cables. The crowd responded to Roberts' monopolistic plans with the chant "Hey hey, ho ho, that Comcast merger has got to go!"
Philly was one of three rally sites today; Free Press also held a rally in New York City, and activists gathered for a protest in Chicago. Today's events built on the momentum of last week's Internet Slowdown — and we're not done yet.
On Tuesday we'll meet up for an action right outside the FCC, and throughout the week we'll be lobbying key congressional offices to stand up for Net Neutrality. Stay tuned for details.  
In the meantime, scroll down for video and photos, and check out our Flickr page for more pics.
Hey Hey, Ho Ho This Comcast Merger's Got to Go! from Free Press on Vimeo.
Temple University Professor Chris Rabb Speaks at Net Neutrality Rally in Philly from Free Press on Vimeo.