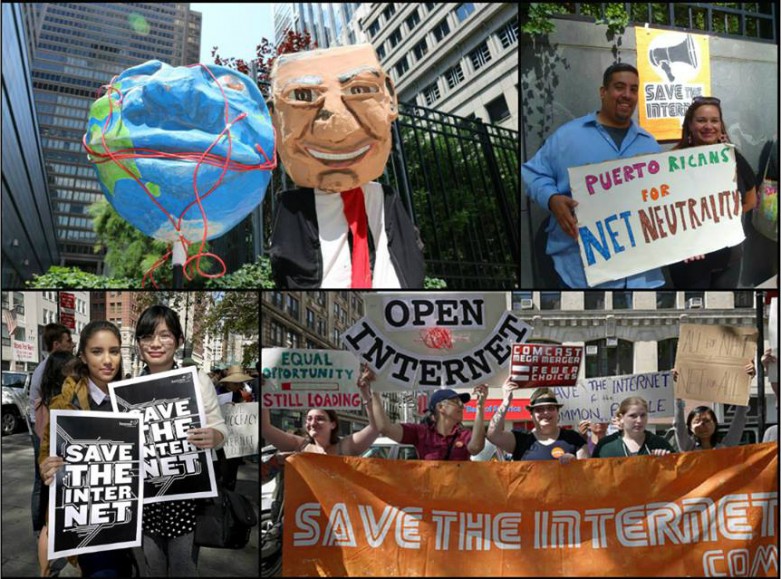 Two Net Neutrality-Fueled Weeks at Free Press
We're doubling our caffeine intake at Free Press these days thanks to the round-the-clock organizing we're doing to save Net Neutrality and block the Comcast-Time Warner Cable merger.
Here's what we put together in just the last couple of weeks — we're grateful to our many allies, members and supporters who worked hand in hand with us to pull it all off:

One epic online day of action: The Internet Slowdown inspired more than 2 million people to email the FCC and more than 300,000 to call Congress in support of strong open Internet protections.

Three big street rallies: Hundreds of people took to the streets in New York City, Philadelphia and Washington, D.C. Activists carried giant puppets, waved signs, chanted, marched — and projected their support for Net Neutrality via a digital billboard stationed outside the FCC.

Three letters to the FCC: From netroots, feminist and public interest communities representing millions of people — and pushing the agency to save Net Neutrality and stop the Comcast merger.

Forty-four pages of new expert analysis and research: Filed at the FCC, shredding our opponents' misinformation.

One stellar testimony at the FCC: Free Press made a standup case for reclassification and protecting real Neutrality.
Visits to two dozen congressional offices: This three-day lobbying spree was part of our larger effort to engage Congress in this fight.

All of this activity is having a huge impact: More than 60 members of Congress have spoken out in support of Net Neutrality. Public awareness and activism continue to skyrocket, with more than 6 million people taking action and 3.7 million filing comments at the FCC. Press coverage of Net Neutrality is at an all-time high.

But the truth is, getting the FCC to do the right thing on Net Neutrality — and the Comcast-Time Warner Cable merger — will be more of a marathon than a sprint.

Up next: Public hearings in cities around the country; a call-in campaign, comment drive and in-person petition delivery to the FCC before the final Comcast comment deadline on Oct. 8; activism pushing the White House to live up to its promises on Net Neutrality; creative online organizing — and much, much more.
So do what you can do — join an action, call Congress, sign petitions, donate … and help us win one for the open Internet at the finish line.