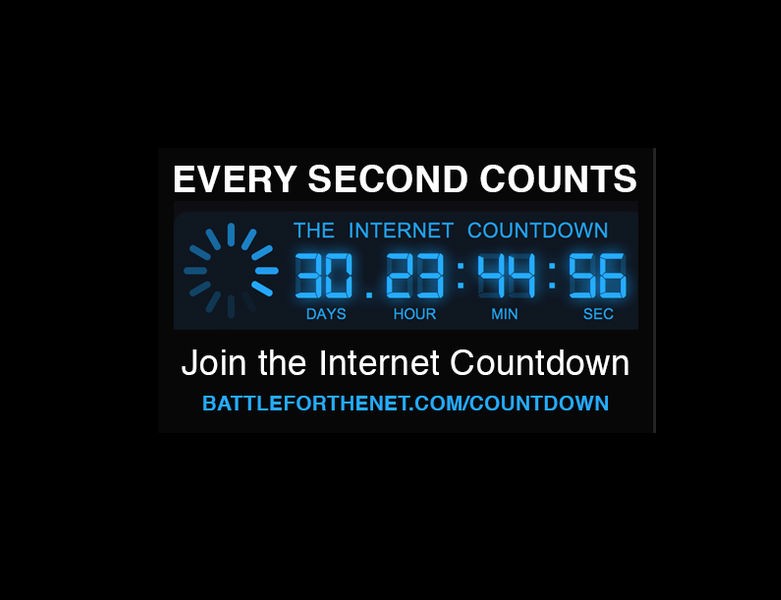 The Clock Is Ticking for Real Net Neutrality
Net Neutrality friends and family, it's the final countdown.
The clock is ticking the milliseconds away to Feb. 26, the day the FCC will vote on new Net Neutrality rules. And ever since Chairman Tom Wheeler hinted that he's favoring a Title II approach, some Comcast-fed troublemakers in Congress have been doing everything they can to stand in the FCC's way.
Last week both chambers of Congress held hearings on an industry-friendly bill from Sen. John Thune and Rep. Fred Upton that would strip the FCC of its authority to enact strong open Internet protections. This is a desperate move from a lobby that's used to getting its way on Capitol Hill — and it's got plenty of love from folks like House Speaker John Boehner, Sen. Ted Cruz and self-proclaimed "paid-prioritization guy" Rep. John Shimkus. (These guys know who butters their bread.)
Millions of people from all over the country have worked hard to save Net Neutrality, and we need to seize on that momentum to bring this to the finish line. That's why we've teamed up with our partners at BattlefortheNet.com, where we have a scoreboard noting where all 535 members of Congress stand on this important issue. You can sign a petition if your senators and representative are on Team Cable (aka the dark side), but phone calls pack a lot more power. We've made things super-easy for you: We've got a script you can use and will connect you directly to your members of Congress.
It took a long time to get Chairman Wheeler to see the light. We think he's with us, but we need to make sure he doesn't waver.
As of this writing we've got less than a month until the most crucial FCC vote of our lifetimes. Go to BattlefortheNet.com and tell your senators and representative to oppose any attempts to defang the FCC.
Let's make sure the Internet we love doesn't magically disappear.