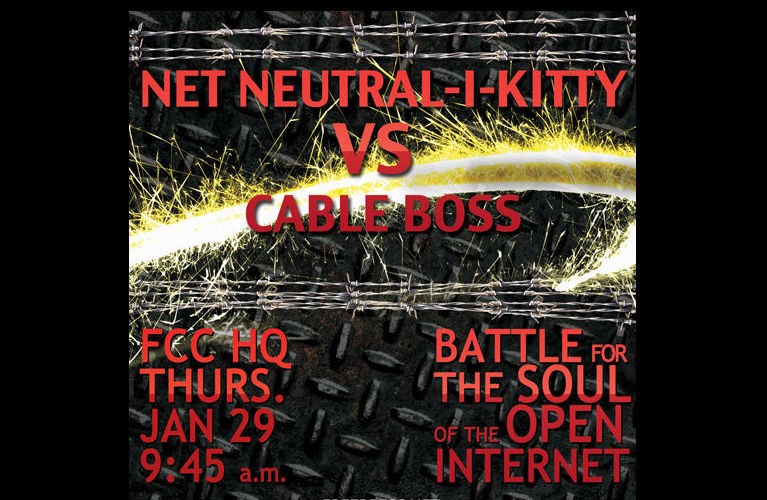 Cats vs. Cable
Forget Foreman vs. Ali — the ultimate showdown will happen on Jan. 29, when populist Internet cats take on Big Cable right outside FCC headquarters.
In one corner we'll have Net Neutral-i-kitty, representing the millions of people who have spoken out for strong open Internet protections. In the other we'll have Cable Boss, hailing from the self-serving nation of Comcast.
At stake: the future of the Internet.
More than 400 cats will be ringside to meow for Net Neutral-i-kitty. Many of these felines visited the FCC recently — and vowed to return before the agency's Feb. 26 vote on new Internet rules.
Internet cats recognize that they owe their very existence to Net Neutrality. If we didn't have that level playing field online, videos of cats playing laser tag never would have seen the light of day.
The cats want to express their undying loyalty to FCC Chairman Tom Wheeler, who appears poised to protect real Net Neutrality.
Here are the purrtinent details on Thursday's catfight, which will occur right before the FCC's open meeting (I will have the honor of serving as referee):
WHAT: Net Neutral-i-kitty vs. Cable Boss: A Battle for the Soul of the Internet
WHEN: Thurs., Jan. 29, 9:45–10:15 a.m.
WHERE: Outside FCC headquarters, 445 12th St. SW, Washington, D.C.
Event promoters include Free Press, 18 Million Rising, Consumers Union, Fight for the Future, Hollaback!, MAG-Net, Media Mobilizing Project, Open Media, and Women, Action, and the Media.  A round-by-round account of the catfight will be available on Thursday at freepress.net/blog. You can also find statements of support from cats who can't make it to the fight at http://bit.ly/15IMnMv.