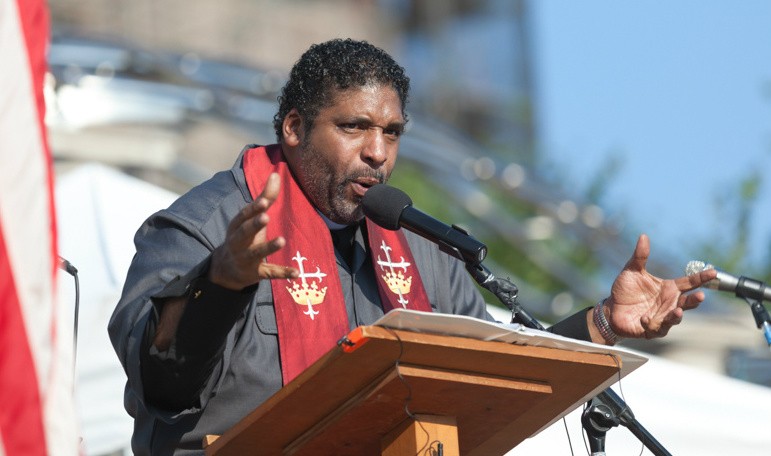 The Rev. William Barber II Delivers an Impassioned Plea for #NetNeutrality
The Rev. William Barber II knows firsthand how crucial Net Neutrality is.
On April 29, 2013, Barber led a small group of activists and fellow clergy into the North Carolina statehouse to protest the legislature's efforts to restrict voting rights. Afterwards, news of the action spread — thanks, no doubt, to the open Internet — and the following Sunday more than 100 protesters showed up.
Over the next few months, Mother Jones notes, the "weekly crowds at the 'Moral Mondays' protests grew to include hundreds, and then thousands, not just in Raleigh but also in towns around the state." Moral Mondays is now a full-fledged movement tackling everything from environmental infractions to assaults on reproductive rights, and it's inspired similar protests in neighboring states.
The head of the NAACP's North Carolina chapter, Barber recently posted a video framing Net Neutrality as a social justice issue. "Right now," he says, "the Web is a place where all Americans have an equal voice regardless of color, regardless of economic status or beliefs, and we need to keep it that way. An open Internet is vital for our organizing efforts in social justice here in North Carolina and around the country."
In the course of 70 inspiring seconds, Barber applauds the FCC for heeding the public call for strong Net Neutrality protections — and slams the efforts in Congress to derail the agency's process.
"I'm calling on people of faith and people not of faith to send a message to our federal government to support Net Neutrality," he says. "Join me in sending a message to Congress by recording your own two-minute video message or writing your own testimonial online at faithfulinternet.org. Let your voice be heard."
A project of the Stanford Center for Internet and Society and the United Church of Christ's Office of Communication, faithfulinternet.org is a hub for educators, artists, communities of color and others fighting for real Net Neutrality. The site's motto ("Many beliefs. One Internet") gets at exactly why the Internet is worth saving.
Check out the video below and share it with your friends:
---
Original photo by Flickr user Will Thomas