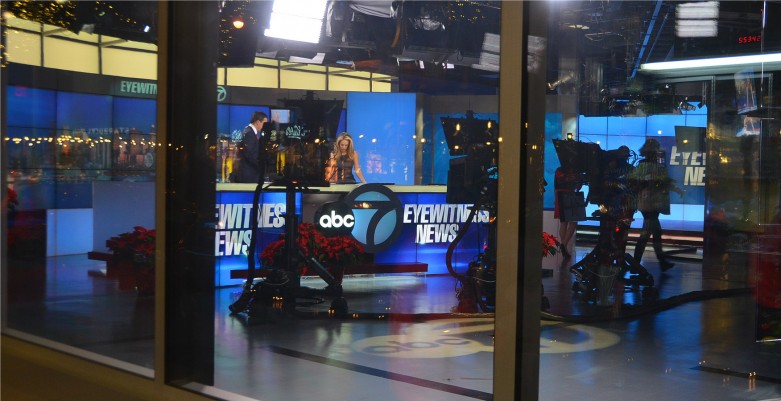 New Report Shows That NYC TV Stations Are Misrepresenting Black Crime
From the first colonial newspapers to the present day, the news media have depicted Black people as criminals who are threats to society.
So while the findings in a just-released study of news coverage of New York City's Black community are troubling, they're hardly surprising.
The report from ColorOfChange.org and Media Matters draws on research Media Matters conducted from August–December 2014. It examines four local TV stations — WABC, WCBS, WNBC and WNYW (Fox)  — and shows that stations were overstating the number of Black people involved in local crime. The percentage of Blacks who appeared as suspects in stations' crime stories was much higher than the percentage of Blacks who actually committed crimes.
As ColorOfChange noted in its press release:
On average, 51 percent of the people the NYPD arrest for murder, assault and theft are Black, according to NYPD crime data from 2010-2013.
Seventy-five percent of the people newscasters present as perpetrators of those crimes in New York City are Black, exaggerating the image of Black people as criminals by 24 percentage points. For WABC, it's 82 percent. 
ColorOfChange Executive Director Rashad Robinson criticized the stations for overreporting stories on Black crime while underreporting stories on White crime.
He also condemned the stations for failing to cover the NYPD's targeting of the Black community via its stop-and-frisk practices, an issue that racial justice and civil rights leaders have protested for years.  
"Local news in New York City has failed the most basic responsibility of journalism: to report the news accurately," he said.
The report is a reminder that the racial inequity built into our media system has negatively influenced the portrayal of the Black community and other communities of color.
Black owned-and-operated TV stations are virtually nonexistent. Overall, people of color own just 3 percent of all full-power TV outlets. Meanwhile, the majority of people still receive their news from their local TV outlets — which makes the lack of diversity in media ownership even more consequential.
ColorOfChange has played a major role in the fight for media justice — opposing mergers that harm diversity like the Comcast-Time Warner Cable deal. The group has also been a leading voice in the fight for Net Neutrality, working to ensure that communities of color can continue to tell their own stories online.  
The kind of skewed coverage found on the NYC stations can have dire consequences. As Robinson said, "this type of overrepresentation sends a message that it's OK and it's justified to fear Black folks."
Original photo by Flickr user Adam Fagen