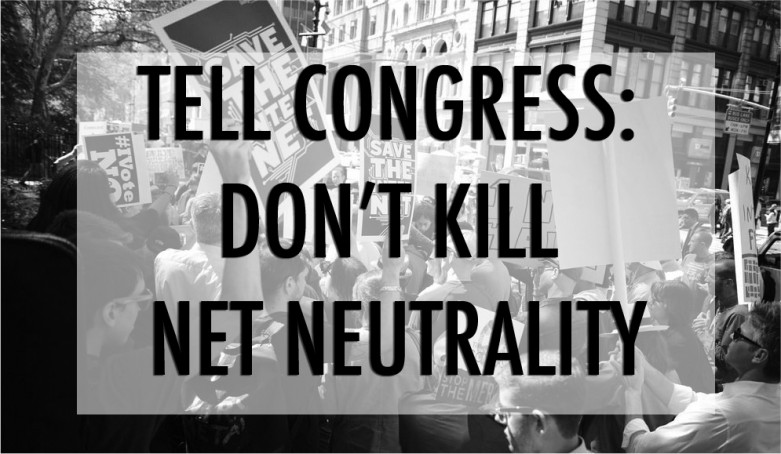 Congress Is STILL Trying to Destroy Net Neutrality
Congress is trying to destroy Net Neutrality. Again.
On Monday, Rep. Doug Collins (R-Ga.) introduced a "resolution of disapproval" designed to overturn the FCC's Net Neutrality rules.
Under the Congressional Review Act, Congress has the power to review — and invalidate — any new rules issued by federal agencies. The resolution of disapproval already has 13 co-sponsors, all Republicans.
Of those co-sponsors, two — Reps. Bob Goodlatte and Bob Latta — have long carried water for the very phone and cable companies trying to kill Net Neutrality. (Goodlatte was also one of the architects behind the failed SOPA bill, which would have dismantled the open Internet in the name of fighting online piracy.)
Looking at the top-20 donors who have given to Goodlatte and Latta over the course of their congressional careers is instructive.
From 1991–2014, Goodlatte received a whopping $250,734 from AT&T, Comcast, the National Cable and Telecommunications Association (NCTA), and Verizon. AT&T, which alone has given him $71,750, is his third biggest donor of all time.
From 2007–2014, Latta — who once claimed that "Net Neutrality regulations are a solution in search of a problem" — has received $127,100 from AT&T, the NCTA, Time Warner Cable, and the lesser-known Block Communications.
The phone and cable company numbers for both Goodlatte and Latta are likely higher given that these are just the donors that fall within the top 20.
As a relative newcomer to Congress, Collins hasn't had time to accrue the kinds of donations Goodlatte and Latta have, but his introduction of this resolution of disapproval shows that he's working for Team Cable — and ignoring the millions of Internet users who spoke out for real Net Neutrality.
This move is just the latest assault on the Net Neutrality rules, which also came under scrutiny at five congressional hearings in March. Since then, six lawsuits challenging the rules have been filed, and more are on the way. Various pieces of legislation are in the works to destroy Net Neutrality and/or defund the FCC and make it impossible for it to enforce any open Internet protections.
We fought hard to win real Net Neutrality — and now we need to fight twice as hard to defend it.