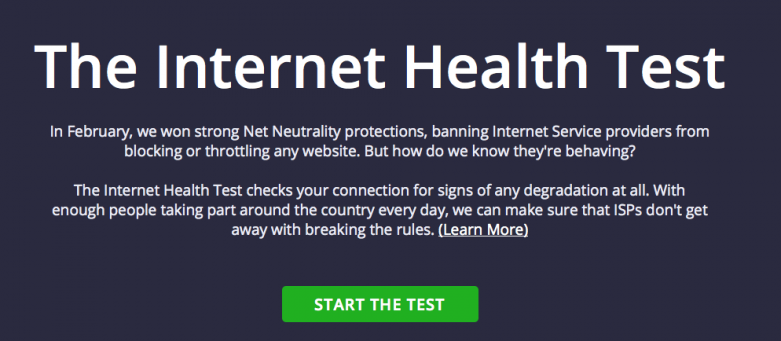 The Internet Health Test Reveals Network Slowdowns
For too long Internet users had to take it on faith that our Internet access providers were making good on their promises to give us what we pay for.
But even those who pay a premium for top speeds have found that certain sites and services sputter out at the pace of dial-up. And calling your ISP's customer-service department to find out what's going on can be a torturous exercise — requiring you to endure an endless loop of hold music as you pray for a sentient being to pick up the line.   
Now you can do something about it. Last month the Free Press Action Fund and our BattlefortheNet.com partners launched the Internet Health Test to collect data on the speeds offered by the likes of AT&T, Comcast and Verizon. The test is an interactive tool that lets users run speed measurements across multiple "interconnection points" and gather information on whether and where ISPs are degrading speeds.
The good news: Since its launch, more than 300,000 Internet users have run the Internet Health Test, resulting in over 2.5 million data points.

Now here's the bad: The evidence collected points to slowdowns for users on the networks of five of the largest Internet access providers — AT&T, CenturyLink, Comcast, Time Warner Cable and Verizon  — which represent 75 percent of all U.S. wireline households.
And the ugly: Since the test results were made public, a number of paid cable-industry operatives have tried to tear down these findings, suggesting without actually looking at the data that they are faulty and somehow corrupted. (UPDATE: These claims were found to be "incorrect and baseless" and "simply not true" by none other than the former CTO of GTT).
In truth, the big phone and cable companies are terrified that so many people are performing the speed tests and compiling data on what ails the Internet. The service slowdown isn't a problem just for Internet users hoping to get their money's worth. It's also a potential violation of the hard-won Net Neutrality rules that went into effect on June 12. The Federal Communications Commission now has a number of enforcement tools on hand to go after phone and cable companies that don't live up to promises when it comes to Internet speed, quality and reliability. 
Often the degradation occurs at interconnection points — the Internet nodes where traffic an ISP customer requests crosses between the ISP's network and a network on which content and application providers host their services.
The Internet Health Test uses Measurement Lab (M-Lab) infrastructure and code to run speed measurements from your ISP across multiple points to detect and compare performance.
Sifting through the mountain of data, Collin Anderson of M-Lab reports that "Patterns of degraded performance occurred across the United States, impacting customers of various access ISPs when connecting to measurement points hosted within a number of transit ISPs in Atlanta, Chicago, Los Angeles, New York, Seattle and Washington, D.C."
According to the data, AT&T users, and especially users in Atlanta, Chicago and Los Angeles, experienced consistent patterns of degradation across interconnection services, most notably on GTT Communications. GTT is the world's fifth largest interconnection service, according to Dyn Research. The sixth largest service, Tata, also experienced significant slowdowns.
"In Chicago and Atlanta," Anderson writes, "this degradation was at its most extreme, with peak-hour performance frequently less than 0.1 Mbps. Other access ISPs such as Comcast did not display as substantial degradation to those same sites during the same period."
The FCC is on the cusp of approving AT&T's multibillion-dollar merger with DIRECTV. A central issue deal opponents raise is that the merger would give AT&T a greater incentive to control how data-rich services like Netflix reach their users. AT&T has resisted any conditions that would prevent it from slowing similar services at key interconnection points. 
According to Internet Health Test data, AT&T often sticks customers with speeds that are slower than the FCC's bare-minimum definition for Internet access … and many times more sluggish than what it advertises. Last week the FCC levied a $100 million fine against AT&T for misleading customers about its unlimited mobile-data plans. The fine is the largest the agency has ever imposed.
The problem with AT&T service is just one slice taken from the trove of evidence the Internet Health Test has yielded. To learn more, more people need to take the test.
This is one of your best chances to hold your ISP accountable. The information the test collects is critical to protecting your online rights. The Free Press Action Fund and our allies will use this data to defend the Net Neutrality protections — and ensure that Internet users get the open and fast Internet they expect.