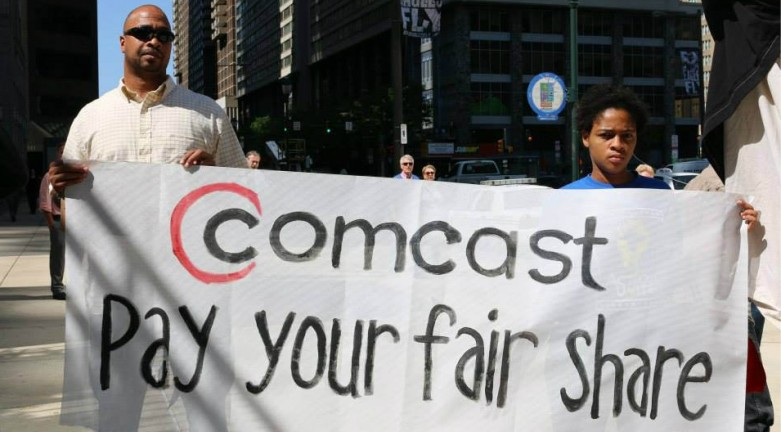 Heads Up, Philly! Here's Your Chance to Hold Comcast Accountable
Philadelphia students are once again hitting the books in a district lacking adequate funding — a situation that's arisen in part thanks to Comcast's poor corporate citizenship.
Despite making $8 billion in profits last year, Comcast still isn't paying its fair share in Philadelphia. The company pays no property taxes to support Philly schools desperate for resources and has failed to expand affordable Internet access in the city.
Now we have a chance to change that. The city is renegotiating Comcast's franchise deal, settling on the rules the company must play by if it wants to keep doing business in Philadelphia. This process opens the door for public interest groups and local residents to speak out.
Our friends at the Media Mobilizing Project have been working hard to elevate those voices via its CAP Comcast campaign. This Friday, the group is holding a back-to-school rally calling on both the mayor and the city council to hold Comcast accountable in the new franchise deal.
Philly may be Comcast's hometown, but the city has the third-worst broadband access of any big U.S. city.
That's a huge problem. High-speed Internet access is essential for people in our communities to express themselves, find jobs and pursue an education. Our students need the Internet to complete their homework. Without broadband access for everyone, Philly residents are locked out of the digital future.
As one of the nation's poorest cities, Philadelphia needs truly affordable access. Overpriced broadband leaves our most vulnerable communities stranded on the wrong side of the digital divide.
The current franchise agreement gives Comcast valuable access to the public rights of way, including telephone poles and other infrastructure the cable giant needs to offer service. Comcast needs to provide Philadelphia with much-needed affordable broadband service and property tax revenue for the city's cash-strapped schools.
The new franchise agreement will determine the rules of the road for Comcast for the next 15 years. By putting pressure on city officials, activists can win important and long-lasting victories for local residents.
Join the Media Mobilizing Project's back-to-school rally this Friday. All Philly students deserve a chance to succeed — and it's time for Comcast to step up to the plate.