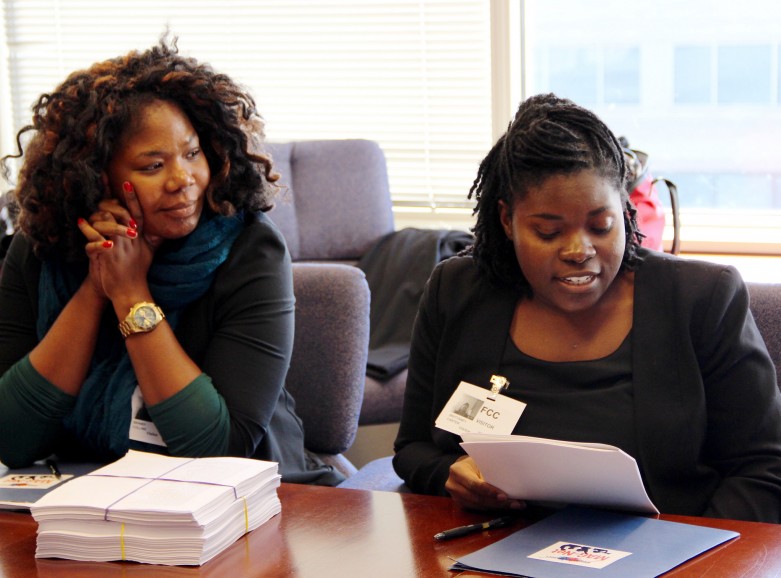 Prison Phones and the #RightToConnect
All it takes is a quick glance at your monthly broadband bill to know the truth: We're all paying exorbitant rates to connect and communicate.
Those rates aren't easy for anyone to swallow, but they're especially damaging when they target vulnerable communities. Low-income families are forced to make impossibly hard decisions about whether to pay for broadband, phone service or other necessities.
For an example, look no farther than the predatory rates charged for phone calls to and from our nation's prisons. Phone companies like Securus Technologies often charge $10 for a 15-minute call ­­— and that's before tacking on a host of astronomical fees. These charges add up, placing a huge financial burden on both incarcerated people and their loved ones.
Studies show that having regular contact with those on the outside can dramatically reduce recidivism rates. That means stronger communities. But instead of encouraging this beneficial contact, phone companies and prisons are more focused on profits.
Earlier this week, our allies at MAG-Net delivered more than 80,000 signatures urging the FCC to move forward with its proposal to cap rates for all prison-phone calls. ColorOfChange.org, the Campaign for Prison Phone Justice, Free Press, the Progressive Democrats of America and the United Church of Christ Office of Communication, Inc., also participated in the petition delivery.
To make sure the issue struck home with lawmakers, MAG-Net organized a congressional briefing on the #RightToConnect for a delegation of impacted community members, policy experts and media justice advocates. The briefing demonstrated the need for affordable prison-phone rates and also highlighted the need to modernize the Lifeline program to give low-income families more affordable broadband access.
The powerful stories relayed during the briefing made it clear how important affordable communications are for disadvantaged communities. In a recording played during the event, Keven Reese, who has been incarcerated for 11 years, talked about how hard it is for his family to keep in touch when choosing to answer his phone calls may mean sacrificing Christmas presents for their children.
Another heartbreaking story came from Jazlin Mendoza, who is one of 2.7 million youths in the United States with an incarcerated parent. Phone calls with her father are so expensive it's often hard for her to get even five minutes on the phone with him. Yet her family spends $200 each month to maintain this critical contact, even when it means forgoing important supplies Jazlin needs for school.
Yes, prices are too high for all of us — but when you look at the numbers and listen to the stories, an uncomfortable pattern emerges. Low-income, Black and Latino communities account for a disproportionate number of those imprisoned. The very people who most need to connect face the biggest obstacles.
Prison-phone rates are predatory: They target our most isolated communities. This is unacceptable. As FCC Commissioner Mignon Clyburn declared during the briefing, "We should be outraged."
It's time for the FCC to cap rates and significantly lower the price of prison phone calls. We shouldn't allow companies to profit off the backs of our most vulnerable people.
Scroll below for a few of the photos from Tuesday's petition delivery and congressional briefing: