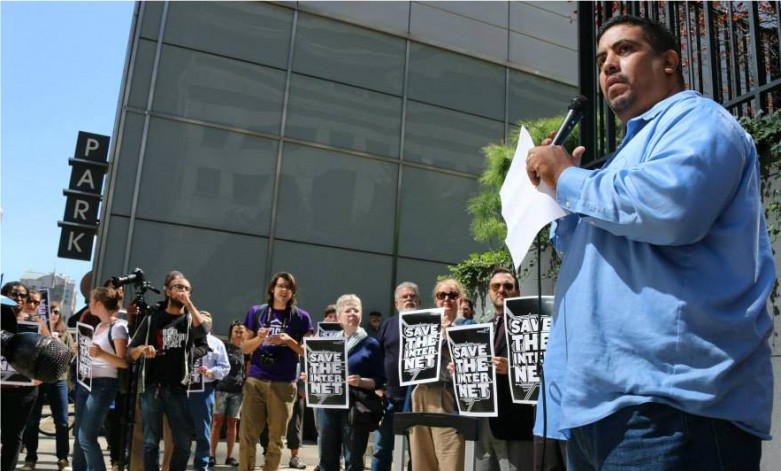 Joseph Torres Honored With NHMC Impact Award for Outstanding Advocacy
On Nov. 18, the National Hispanic Media Coalition honored Free Press' own Joseph Torres with the Impact Award for Outstanding Advocacy. Joseph's powerful speech appears below.
---
Close to 50 years ago, Frito-Lay produced a commercial that offended the Mexican-American community.
The commercial featured a cartoon character named Frito Bandito, a potbellied Mexican who wore a sombrero, sported a handle-bar mustache and robbed people for their corn chips at gunpoint.
Soon, other companies were using their own bandito characters in commercials to sell everything from cars and watches to cigarettes.
At the time, a newly formed group, the National Mexican-American Anti-Defamation Committee, challenged the industry not to air this racist ad. Eventually, the broadcast industry relented.
But the fight against Frito Bandito created greater awareness among Latino activists that in order to improve the image and representation of Latinos in the media, they needed to make their voices heard in Washington.
Nearly a decade ago, Alex Nogales made a similar determination. While the National Hispanic Media Coalition spent decades fighting to increase the presence and influence of Latinos on TV and in films, he understood that more needed to be done.
More was needed because of the harm caused to our community when we're portrayed as a threat to society, some invading force that will result in the demise of our country. 
And this message is often delivered by people who spew hate speech to incite the population rather than inform it. Meanwhile, this message is carried by media companies that too often allow ratings to trump the well being of our community.
NHMC understood that more needed to be done because we need polices that will create a more just media system rather than a system that harms us.
So Alex hired a staff in Washington in order to have expert policy advocates who could ensure the voices of the community were being heard.
I had the honor and privilege of working closely with NHMC over this time, first with Alex and Inez Gonzalez, then with Jessica Gonzalez and now with Michael Scurato.
But our circle of friends and allies fighting for a just media system for Latino, Black and Asian American communities grew over the past five years as we collectively fought to protect an open Internet by saving Net Neutrality.  
NHMC, along with the Center for Media Justice, ColorOfChange.org, Free Press and many others, worked in coalition to protect Net Neutrality so our communities could speak up online and say yes to Black Lives Matter, yes to a humane immigration system and NO to deporting more then 2 million undocumented immigrants.
NHMC played an indispensable role in the coalition by ensuring activists of color were armed with the latest policy arguments so they could effectively advocate to their community and to lawmakers about the critical importance of protecting an open Internet. They also played a key role in ensuring the FCC and Congress understood the position of the community and coalition members.
This is why we need NHMC more now than ever. While we accomplished a lot in fighting for an open Internet, much more needs to be done.
In closing, I  want to thank my Free Press family for allowing me to work in service of a just cause.
And as a Latino, a Puerto Rican, I can say from the bottom of my heart thank you to NHMC, thank you Alex, Jessica, Michael, Andy and Brenda for your leadership and for representing the voices and dignity of our community.
So I am proud to receive an award from an organization that means so much to me.
Thank you.