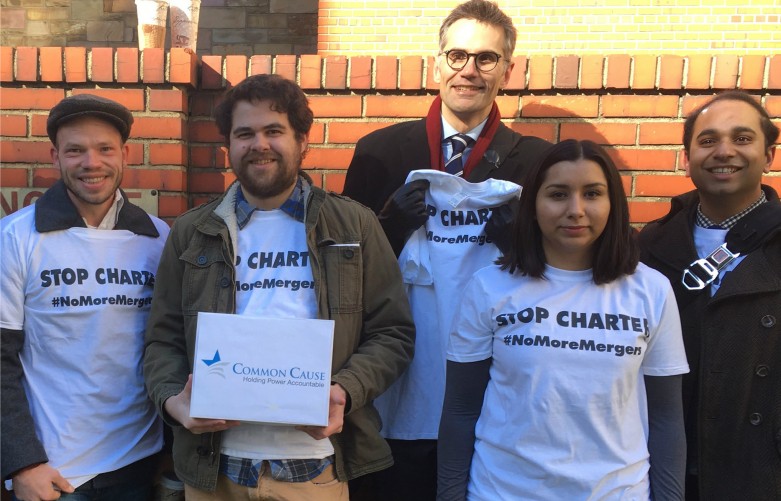 More Than 300,000 Americans Urge the FCC to Reject the Charter Merger
Free Press and our allies stopped by the FCC on Thursday morning to deliver more than 300,000 comments calling on the agency to block the Charter-Time Warner Cable merger.
The comments were gathered by a coalition of media justice, Internet rights and public interest groups, including ColorOfChange.org, Common Cause, Courage Campaign, Daily Kos, Demand Progress, Free Press, Future of Music Coalition, the National Hispanic Media Coalition, Open Media, Presente.org, Public Knowledge and more. This coalition has been organizing for months to stop this mega-merger, which would line cable executives' pockets at customers' expense.
Charter and other corporate interests have been pressuring the FCC to rubberstamp the merger. But the public outcry is showing the agency that people across the country hate this deal, which would crush competition, raise prices and halt online video innovation.
Broadband and cable customers are already saddled with limited choices and unaffordable prices. This merger would only exacerbate these problems, making it harder for folks to connect and communicate. Many of the comments address the degradation of competition in the broadband and cable markets; if the merger is approved, Charter would rival Comcast in size and the two companies would offer service to nearly 80 percent of U.S. homes. (For more on why this deal is bad news click here.)
The FCC is expected to make a decision on the merger later this year. Until then, the fight to stop Charter will continue.
Scroll below to see video and a few photos from Thursday's delivery, and check out our Flickr album for more pics.
---