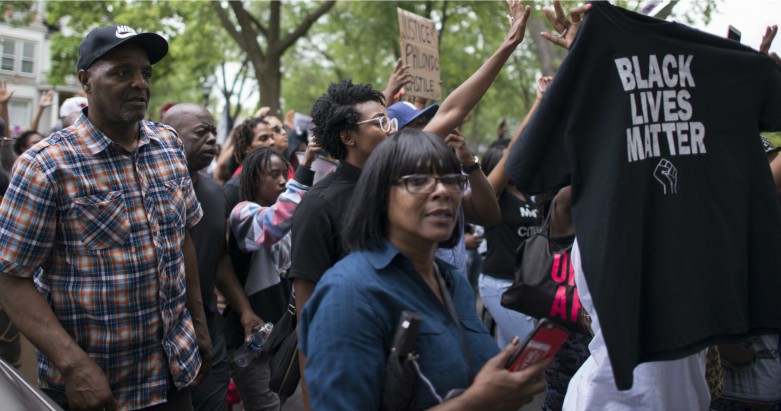 Baton Rouge. Falcon Heights. Dallas.
Alton Sterling and Philando Castile were killed this week.
Then, after a peaceful protest in response to these unjust deaths, a sniper killed at least five police officers in Dallas.
Sterling was a father of five who sold CDs in Baton Rouge. "Regardless of if you knew him or not — he is not what the mass media is making him out to be," said Quinyetta McMillon, the mother of Sterling's oldest son. "The individuals involved in his murder took away a man, with children, who depended upon their daddy on a daily basis."
Castile was a cafeteria supervisor in St. Paul who leaves behind family members including his girlfriend, Diamond Reynolds, and her 4-year-old daughter, who witnessed the shooting. "Castile had just gotten a haircut for his upcoming birthday," the Washington Post reports, before a police officer pulled him over for a broken taillight.
"He never did anything to hurt anyone. He was the quietest, most laidback person you will ever meet. He was loving," said Reynolds. "Nothing within his body language said intimidation. Nothing within his body said shoot me. Nothing within his body language said kill me I want to be dead. He did not do nothing but what the police officer asked of us."
Different cities. Different circumstances. Same pattern of racist police violence.
There have been hundreds of police killings this year alone. And while the tragic deaths of people like Sterling and Castile are all too common, they're generating national attention and outrage because they were recorded.
Bystanders documented Sterling's death and Reynolds livestreamed the aftermath of Castile's. In both cases police did nothing while the men bled from multiple gunshot wounds. What's more, Reynolds' video showed the emotion of the situation as she and her daughter absorbed the horror of what had just happened.
Media and technology tools like cellphones allow people to document life as it unfolds in communities around the country and tell stories the corporate media often can't or won't tell. Cellphone cameras have become an indispensable means of filming police activity and countering false narratives and cover-ups law enforcement pushes about the people they have harmed. Over and over again cellphones have chronicled racist policing that some cops and corporate media don't want us to see.
The open internet helps get those stories out so the rest of the world can see the horror of an unjust system that allows black people to die at the hands of law enforcement. And the open internet allows us to organize and challenge powerful institutions such as our criminal justice and corporate media systems.
The internet also shows us real-time stories of gun violence as it unfolds. Video recorded on phones is how most of us first experienced the terror in Dallas. And the internet is where so many of us will go to try to make sense of what's happening — and, yes, where some will try to twist the narrative.
More violence is not what our communities need. Many people and organizations are working hard to combat racist police brutality, and it's important to support their work. Check out BlackLivesMatter.com. Visit ColorOfChange.org and take action. Share what you learn with your loved ones. If you can, donate to these groups and other Black-led racial justice organizations. Show up at actions near you. Demand justice.
Right now we grieve the lives lost, remember the countless victims who came before, and send our thoughts and prayers to the family members grappling with these losses.
Original photo by Flickr user Fibonacci Blue