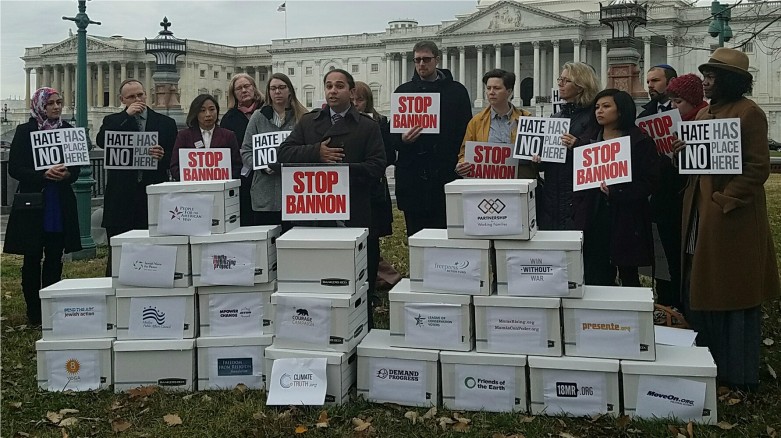 Activist Groups Deliver Message to Congress: Steve Bannon Has No Place in the White House
A broad coalition of activist groups came together on Thursday to echo the voices of more than 1 million people who are urging congressional leadership to denounce Trump's appointment of Steve Bannon as chief strategist for the White House.
Free Press has spoken out before on Bannon's racist, anti-Semitic and misogynist views, as well as his legacy of mainstreaming white nationalism at Breitbart News Network.
"The White House should not become the white supremacy house," MoveOn's Ben Wikler told the small crowd assembled before the Capitol building today. The coalition included representatives from 18 Million Rising, Bend the Arc Jewish Action, ClimateTruth.org, Courage Campaign, Daily Kos, Demand Progress, Free Press, Friends of the Earth, Jewish Voice for Peace, JStreet, MomsRising, MoveOn, MPower Change, the Muslim Public Affairs Council, NARAL, People for the American Way, Presente.org, Split This Rock, UltraViolet and Win Without War.
Audine Tayag of UltraViolet took a moment to list some of Bannon's "greatest hits" as the head of Breitbart, including publishing racist stories and blaming sexual assault victims for the crimes committed against them.
Rabbi Jason Kimelman-Block of Bend the Arc and Rabiah Ahmed of the Muslim Public Affairs Council spoke together in a show of unity against the man whose rhetoric has dehumanized the Jewish and Muslim communities. Bannon's bile has helped spark a wave of hate incidents against these and other vulnerable communities.
Sen. Jeff Merkley (D–Oregon) joined the protesters to stand in solidarity with the millions who are frightened and angered by Bannon's appointment. The senator has been a champion in Congress, mobilizing his colleagues to oppose President-elect Trump's string of unacceptable nominees. "We're going to need people fighting hard on the inside, and we're going to need a strong grassroots movement on the outside."
As Free Press Policy Counsel Gaurav Laroia reminded us, "This is not normal. We must reject racist and authoritarian leadership. That starts here."
Watch the Facebook Live stream here:
And check out the photos from the demonstration.