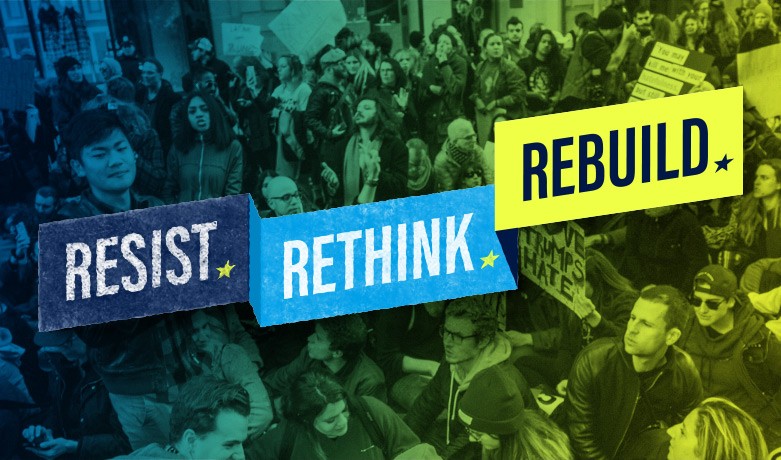 This Is What Resisting Looks Like
Free Press is fighting back every time Trump and corporate gatekeepers threaten people's rights to connect and communicate. Since the election we've:
Pressured Trump to fire his anti-Net Neutrality tech-transition team. All three of Trump's picks are Net Neutrality haters who shouldn't be allowed anywhere near the FCC. We've launched a campaign to demand that Trump fire Jeffrey Eisenach, Mark Jamison and Roslyn Layton immediately.
Urged Congress to reject the racist, misogynist and anti-Semitic Steve Bannon as chief strategist for the White House. We teamed up with allies to deliver to Congress the signatures of more than 1 million people denouncing Bannon's appointment.
Released groundbreaking research showing that the digital divide disproportionately impacts people of color. People need the open internet to find jobs, advance their education and connect with the world. And with vulnerable communities under siege, people need access to affordable, high-speed internet to organize and fight for justice. Our new report, Digital Denied, demonstrates how systemic racism is leaving people of color on the wrong side of the digital divide — and offers concrete solutions.
Challenged the media to call the "alt-right" movement what it is. White nationalists and white supremacists use this term to obscure their racist, anti-Semitic, xenophobic and misogynist agenda — and media outlets are using it without definition or context. We're urging all news outlets to stop normalizing hatred and violence against Muslims, immigrants, people of color, women, Jewish people and LGBTQI people — and start exposing what "alt-right" really means.
Joined with allies to push Facebook CEO Mark Zuckerberg to stop censoring documentation of human-rights abuses. Activists rely on the open internet to organize and get the truth out. Facebook has repeatedly complied with law-enforcement requests to censor user content that depicts police brutality and other abuses, setting a dangerous precedent that further harms and silences communities of color.
Called on major tech firms to refuse to help Trump create a Muslim registry. Free Press is one of 22 progressive groups that signed on to a letter urging tech companies to refuse to help the Trump team build a Muslim registry, a move that would unconstitutionally target individuals based on ethnicity or religion. WIN: Amazon, Facebook, Google and Microsoft have since announced that they won't help Trump.
Launched a campaign to reinvent and fund local journalism. We're finding solutions that will get people the information they need from sources they can trust. Our new campaign advocates that millions from the auction of public TV stations be invested in journalism that serves communities rather than cozying up to power. We've launched in New Jersey and will soon expand to other places.
This is what resisting looks like — and we're just getting started.
Because we don't accept a cent from business, government or political parties, we need your support to keep our work going strong.
We need to raise $100K by Dec. 31 so we can keep fighting for your rights to connect and communicate. Your gift of $10 (or more!) will help get us there. Thank you!