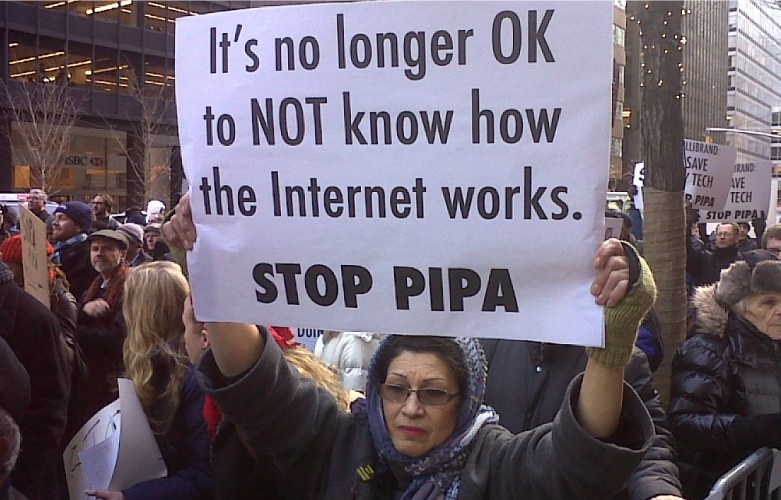 Five Years Later, SOPA and PIPA Serve as a Warning to the Trump Administration
As Washington readies for a leadership transition, its resident politicians are more bitterly divided than ever.
Nearly 60 Democratic lawmakers have announced their plans to boycott Donald Trump's inauguration in the wake of his attacks on civil rights leader Rep. John Lewis. Meanwhile, congressional Republicans are ignoring the ethics rulebook to rush approval of Trump's cabinet picks. The sooner his team is seated, the sooner they can start trying to dismantle President Obama's legacy.
Some still talk about bipartisanship — or finding common cause with political foes — as the mark of good statesmanship. But that spirit is practically extinct in Washington. The incoming administration is behaving as though it can attend to the people's business without actually consulting with people, or considering any opposing view.
There's a lesson in the recent past that serves as a reminder for the ways in which people can transcend these politics of division.

Five years ago today, millions of people came together to shock Washington into action on behalf of the public. Jan. 18, 2012 was a day of mass protests against legislation that would have undermined the free and open exchange of information online.
The lobbyist-fueled SOPA and PIPA bills were designed to shut down massive tracts of internet content without due process or accountability. The Washington consensus was that this legislation's passage was a foregone conclusion. But on Jan. 18, we stopped the inevitable. Fifty thousand websites — including Google, Wikipedia and Reddit — symbolically "blacked out" their webpages to protest the legislation. Nearly 10 million people took action online or by phone, urging Congress to ditch the bill.

By the end of the day, dozens of senators had come forward to oppose PIPA. The House version, SOPA, had already been put on hold after then-Speaker Nancy Pelosi bent to public pressure and tweeted that they "need[ed] to find a better solution." A Senate staffer at the time told me that "phones were melting" across Capitol Hill.
By the end of that week, both bills were dead. The tide had turned in Washington.

The coalition that defeated SOPA and PIPA included groups and individuals from across the political spectrum. But in many ways the protest transcended all of that.
Much of the campaign can be attributed to the late Aaron Swartz, the open culture and internet-freedom activist who took his own life nearly a year later. While progressive in orientation, Swartz disdained political labels, and party ideology never constrained his smart, radical way of thinking. He also knew that the left-right paradigm didn't hold together well around issues of civil rights and internet freedom.
As early as 2010, Swartz emailed Patrick Ruffini, a veteran of online organizing for right-leaning causes, to ask whether he was interested in working together to fight an early iteration of the legislation, the "Combating Online Infringement and Counterfeit Act," which powerful Hollywood lobbyists and their allies on both sides of the aisle were then pushing through the Senate.
"Working on this right now actually," Ruffini emailed back. "What we're hoping to do is provide a friendly spot for people on the right to engage on this issue."
Both Ruffini and Swartz had come to appreciate the internet's potential for diverse and decentralized activism. They understood that advocacy on internet-freedom issues provided an opportunity to get beyond partisan politics and disrupt Washington's status quo. Joining right with left was "essential to building a broad, bipartisan, populist coalition," Ruffini wrote in Hacking Politics, which features essays from activists, gamers, artists, tech luminaries and others who came together to defeat SOPA and PIPA.
Beyond this one campaign, the movement to protect everyone's rights to connect and communicate online has always attracted strange political bedfellows. These alliances defy easy categorization: They're driven by the common desire to protect the internet's inclusive, freewheeling and open nature.
Internet users themselves form a diverse and powerful constituency who have worked together for more than a decade to safeguard principles of free speech, inclusion, equality, privacy and openness.
The 2012 SOPA and PIPA protests are part of this continuum of organizing and activism. So are the protests millions participated in in support of Net Neutrality, online privacy and universal access. Social and racial justice movements are as much a part of this fight as the tech community, becoming even more powerful voices for privacy protections following Edward Snowden's revelations about widespread online surveillance. 
"I don't know if there's really a name for those moments where left and right ideologues can team up on an issue," David Segal, a colleague of Swartz's and the co-founder of Demand Progress, told me in a 2013 interview. "And, importantly, we do so without compromise, because on many of these issues, we actually agree with each other's policy postures."
Such unity is even more crucial now as Trump's incoming administration is threatening to roll back the hard-won Net Neutrality and online privacy protections activists secured in 2015 and 2016. There are also early signs that Hollywood lobbyists are pressuring Trump to support a renewed push for legislation styled after SOPA and PIPA. His earlier comments opposing encryption make it clear that he plans to perpetuate the online surveillance state. The list of concerns goes on.
However important the SOPA/PIPA victory was in 2012, its lasting significance depends on how well the internet-freedom coalition holds together in the fights that lie ahead.
Whatever form these new threats take, millions of people must remain united and ready to act.