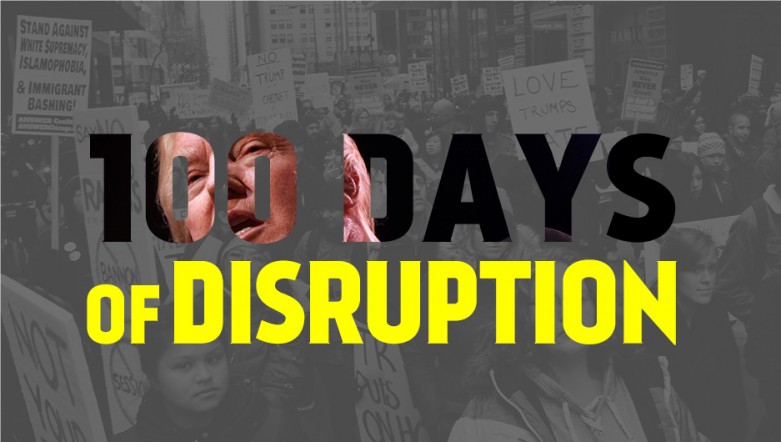 Fighting Back During Trump's First 100 Days
The Trump administration is endangering people's lives and undermining basic civil rights and civil liberties. The threats to undocumented immigrants, people of color, women, religious minorities and the LGBTQ community are particularly dire.
To push back Free Press launched the 100 Days of Disruption campaign to coincide with Trump's first 100 days in office. Every day activists receive an email that highlights one quick-and-easy action. Some of these relate to core Free Press issues like saving Net Neutrality, promoting affordable internet access, protecting online privacy and safeguarding the First Amendment. Others center on communities whose lives are literally on the line.
Last week we:
Called on Disney CEO Bob Iger to quit Trump's business council.
Urged senators to oppose the nomination of Betsy DeVos for education secretary.
Bombarded new FCC Chairman Ajit Pai with calls urging him to reverse harmful orders that have made it harder for needy families to get online.
Asked activists to join an emergency day of action opposing Trump's decision to approve the Dakota Access Pipeline's construction on sacred lands belonging to the Standing Rock Sioux Tribe.
Encouraged people to read a powerful letter Coretta Scott King wrote in 1986 that urged Congress to block Jeff Sessions' nomination for a federal judgeship.
Called on Congress to reject any budget that defunds the National Endowment for the Arts and the National Endowment for the Humanities.
Encouraged activists to protect their communications by checking out a great digital-security resource from our friends at Access Now.
Urged people to join United We Dream's #HereToStay network, a coalition of activists ready to support immigrants at risk of deportation under the Trump regime.
With so much at stake this is no time to be a bystander: Click here to join the 100 Days of Disruption Campaign.