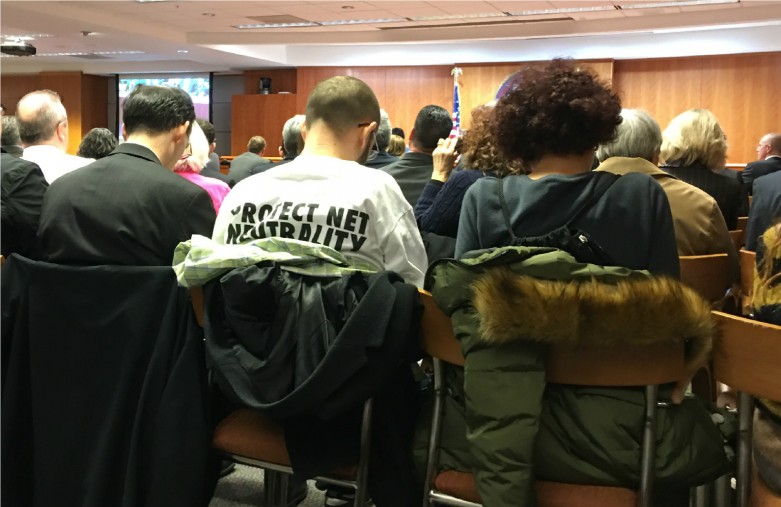 Net Neutrality Protesters Face FCC Chairman Ajit Pai
This morning, more than a dozen protesters from Free Press, Demand Progress, Open Media, Popular Resistance and the Women's Institute for Freedom of the Press took a stand for Net Neutrality at the FCC.
Activists wearing "Protect Net Neutrality" T-shirts filed into the room where the commissioners were holding their monthly open meeting. Once FCC Chairman Ajit Pai kicked off the meeting, the protesters stood and faced him. Security swooped in right away and escorted the activists out.
FCC security forced a couple of protesters (and musicians in the punk bands Downtown Boys and Bad Moves) to take off their "Protect Net Neutrality" shirts before letting them in the meeting room — where the First Amendment no longer appears to apply. (Though given Pai's views on press freedom, perhaps we shouldn't be surprised.)
THE FCC KICKED US OUT OF THER OPEN MEETING FOR WEARING MATCHING SHIRTS. #netneutrality #fccwalkout pic.twitter.com/rI4tFoZqZi

— Joe DeGeorge (@joedegeorge) March 23, 2017
Not long after Trump was elected, Pai vowed to "take a weed whacker" to the landmark Net Neutrality rules. A former Verizon lawyer, Pai has served on the FCC since 2012 and has consistently voted against the public.
As Free Press President and CEO Craig Aaron said, "Pai has never met a mega-merger he didn't like or a public safeguard he didn't try to undermine. He's been an inveterate opponent of Net Neutrality, expanded broadband access for low-income families, broadband privacy, prison-phone justice, media diversity and more."
Appointed FCC chairman in January, Pai is already chipping away at Net Neutrality and other key consumer protections.
Check out the video of activists outside the FCC, courtesy of our friends at Popular Resistance. And stay tuned for ways to protect the open internet and hold Pai accountable.
Photo courtesy of Craig Aaron