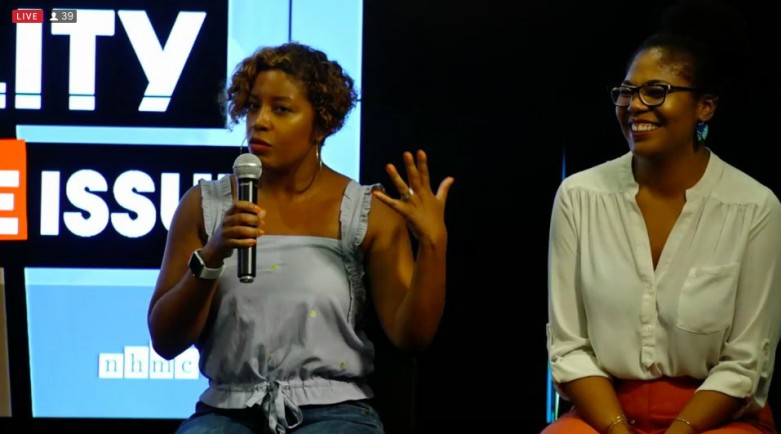 #InternetIRL Forum Highlights Ways Black Creators Connect, Tell Stories and Take Action
#BlackGirlMagic
#BlackBoyJoy
#BlackMenSmile
#BlackLivesMatter
Why the focus on "Black"?
A better question to ask is "Why do statements like this need to be made?" The short answer is that centuries of discriminatory beliefs and practices continue to result in the murder and marginalization of Black people in America, making it necessary to educate our society over and over again. Because of the victories our ancestors won, we have education and endlessly creative ideas for how to dismantle old narratives.
In this quest for liberation, we've found a critical tool: the internet.
So on Tuesday night in Atlanta, the Voices for Internet Freedom coalition welcomed FCC Commissioner Mignon Clyburn to the Peach State for #InternetIRL, a public forum on the intersection of internet freedom and Black opportunity. This event featured perspectives from activists, entrepreneurs, technologists and entertainers based in Atlanta and across the nation.
The goal of this forum was to highlight the many ways that a free and open internet has allowed Black creators to connect, tell stories and take action on a massive scale. Accordingly, the evening began with impassioned remarks from Free Press Senior Director of External Affairs Joseph Torres and Color Of Change Executive Director Rashad Robinson on the connection between Net Neutrality and racial justice.
21st-century civil rights
Following his remarks, Robinson was joined on stage by Lucy McBath, national spokeswoman for Moms Demand Action for Gun Sense in America and the mother of Jordan Davis. In 2013, a White man shot and killed Jordan at a Florida gas station during an argument over loud music. Jordan was just 17.
McBath tenderly recounted her son's playful and protective nature and how the internet helped mobilize a national response to his murder. Today, this medium allows her to directly share words of faith and comfort to families facing gun violence while also amplifying her platform of gun reform and racial justice alongside fellow Mothers of the Movement.
After an initial mistrial, Jordan's killer was subsequently sentenced to life in prison.
Powering the movement
Following a heartfelt conversation between Robinson and McBath, yours truly moderated a panel featuring three powerful Black woman organizers. Poor People's Campaign technologist and Black Girls Code co-founder Idalin Bobe talked about the ways in which the latter has not only opened doors but also literally changed the online conversation: Google searches for "Black girls" once returned auto-complete terms like "dumb" and "ugly." Now "Black Girls Code" is consistently in the top-three search results.
Charis Goff, vice president of National Urban League Young Professionals, talked about the ways that her organization's members use the open internet to access opportunity. With many professional conferences and training courses charging exorbitant registration fees, livestreaming makes it possible for aspiring professionals to access these critical resources remotely at reduced or no cost.
Women's March on Washington co-organizer Nantasha Washington talked about the online tools that planners used in the build-up to her group's historic event. Everything from anticipating head count to mobilizing global satellite marches depended on organizers' ability to gather data and share real-time messaging via digital platforms.
Internet and daily life
Color Of Change Senior Campaign Manager Anika Navaroli took the stage next to lead a discussion about the many daily life and work experiences carried out on the internet — from the Black-professional advocacy of the Gathering Spot founder Ryan Wilson to the journalism-activism of All Digitocracy founder Tracie Powell to the advocacy work of Planned Parenthood Vice President Nikema Williams. Panelist Devan Demarcus discussed the hypermasculine and hypersexual stereotypes often assigned to Black men and boys, which inspired him to create the online campaign #BlackMenSmile.
Panelist Morgan Scott Smith described the high cost and rampant profiteering involved in email and phone communications with individuals who, like her spouse, are incarcerated. This conversation was particularly timely as an appeals court had ruled earlier in the day that the FCC could no longer limit the cost of prison-phone services. Morgan explained that this change will most impact poor families and people of color, who are far more likely to be incarcerated — and far less likely to have funds available for bail fees, legal defenses, prison-communication charges, and the many other costs embedded in interactions with the legal system.
The elimination of FCC rules limiting the cost of prison-phone calls comes thanks to FCC Chairman Ajit Pai's refusal to defend the agency's limits in the face of a lawsuit from the prison-phone industry. Donald Trump appointed Pai earlier this year.
Creatives and the net
The fourth and final #InternetIRL conversation ended the event on a lighter note. Queen Sugar star Reagan Gomez-Preston and BET late-night host Robin Thede brought "Hollywood" to Atlanta with their takes on using Twitter and other platforms to connect with and expand their audiences.
Blavity.com co-founder Jonathan Jackson discussed the site's mission of providing a "digital lunch table" as a safe gathering space for Black millennials. And famed Buzzfeed journalist Sylvia Obell talked about her mission to tell stories of Black life with the nuance and context that's often missing in coverage.
#InternetIRL
Between each segment, video screens displayed testimonials from everyday Atlantans describing the power of the internet in their lives. One young musician talked about his hip-hop record label, and his belief in "free Wi-Fi for all."
I hear you, young man.
I don't know if it will ever be completely cost-free, but I do know that the internet can and should be an incredible driver of freedom. The sheer range and beauty of what was displayed at the #InternetIRL forum was incredibly inspiring, and attendees stayed for nearly an hour afterward continuing to discuss and connect.
The excitement was palpable even as the events of the day weighed heavily. The #InternetIRL forum closed on a note of determination, with fiery words of inspiration from FCC Commissioner Mignon Clyburn: "Net Neutrality is our vehicle for change and for empowerment. If we do not engage, it all will be lost."
The Voices for Internet Freedom coalition, which advocates for the digital rights of people of color, organized the #InternetIRL forum. Voices is made up of Color Of Change, the Center for Media Justice, Free Press and the National Hispanic Media Coalition. Watch the #InternetIRL event here.
---
Photo courtesy of Color Of Change