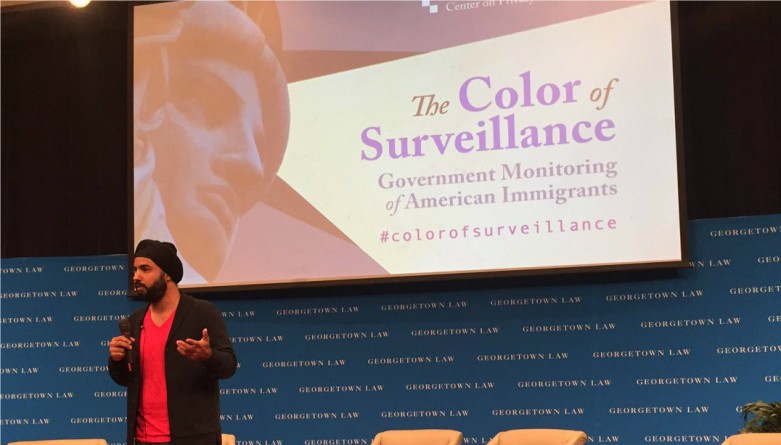 Color of Surveillance Conference Highlights Monitoring of Immigrant Communities
Last week Georgetown Law hosted the second annual Color of Surveillance conference, which examines the disparate impact of government surveillance on communities of color. The conference was organized by Alvaro Bedoya, who directs the law school's Center on Privacy & Technology and is a Free Press board member.
Although unchecked government surveillance remains a popular topic in the post-Snowden era, the surveillance debate far too often overlooks how these programs have always disproportionately affected communities of color. Last year's conference focused on surveillance of Black people in America, and this year the focus shifted to immigrants.
The presenters discussed how racist policies throughout U.S. history — from the prohibition on Chinese immigration that existed from 1882–1943 to the internment of Japanese Americans during World War II to the xenophobic policies that have been put in place since 9/11 — have depended on biased surveillance programs to work. One consistent theme throughout the daylong event was how the government has repeatedly used junk science and fear-inducing messaging to justify these dangerous programs and criminalize immigrant communities. The speakers explained how once a group is identified as a threat, increased government surveillance follows.
As part of the conference, Bedoya worked with the Center for Media Justice to bring a delegation of immigrant-rights activists from across the country to Washington, D.C. Free Press helped coordinate meetings between the activists and congressional leaders in the surveillance-reform debate — including staff from the offices of Rep. Justin Amash (R–Michigan) and Sens. Al Franken (D–Minnesota), Kamala Harris (D­–California) and Ron Wyden (D–Oregon). By sharing their stories as immigrants and activists, the delegation underscored the need for a strong racial-justice analysis in the surveillance debate.
The delegation also got to sit down with Rep. Keith Ellison (D–Minnesota). They discussed stingray technologies, which law enforcement often use to track people of color, and predictive policing, which uses algorithms to mark people as "suspect" based on their ZIP code or household income. They also discussed the fear these activities instill in their communities, and the chilling effect this has on people's First Amendment rights to organize. As both a privacy champion and a civil rights activist, Congressman Ellison has long been making these connections in Congress.
The Color of Surveillance conference provides a crucial reminder that while everyone is being watched, some people in this country have always been watched more closely. And as we continue to have these debates in Congress, we must center race and learn from the nation's long history of racial bias in surveillance programs. 
You can watch the conference in its entirety here.