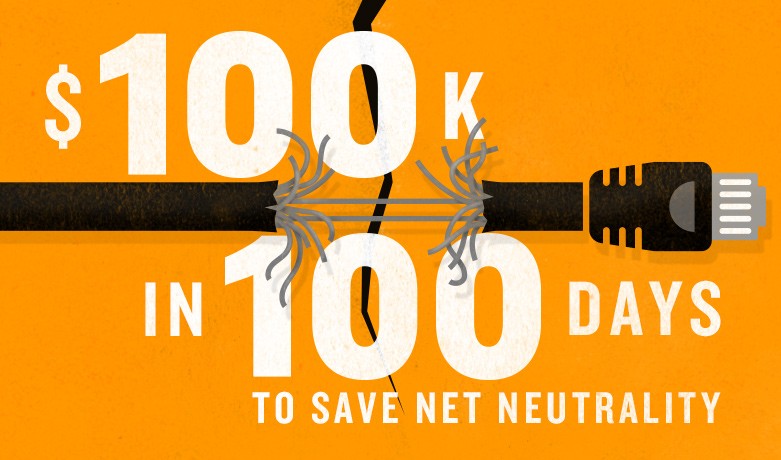 Free Press Supporters Are Fueling the Fight
With the open internet under attack, thousands of Free Press members heeded the call and donated to our $100K in 100 Days campaign to save Net Neutrality. Thanks to their generosity, we exceeded our goal and are continuing to work around the clock to stop the Trump FCC from handing control of the internet over to companies like Comcast and Verizon.
We're up against one of the most wealthy and powerful industry lobbies in Washington — and the policymakers who do its bidding. A prime example: Longtime industry ally Rep. Greg Walden (R–Oregon), who heads up the House Energy and Commerce Committee, has invited the CEOs of the largest phone, cable and internet companies — and only those CEOs — to testify on "ground rules for the internet" in September. Meanwhile, FCC Chairman Ajit Pai, a former Verizon lawyer, is ignoring the public's overwhelming support for Net Neutrality and advancing his plan to roll back the agency's open-internet protections. What's more, Sen. Mike Lee (R–Utah) introduced a bill to overturn the rules back in May, and other damaging bills are expected to follow.
There's no doubt that our opposition is formidable and the stakes are high. But every dollar people donate helps us fight back. And thanks to our supporters, we're rallying more people than ever to demand that the FCC and Congress preserve the existing Title II Net Neutrality rules — the only ones that will keep the internet open as a tool for community organizing, racial justice, innovation, free speech and self-expression.
We're also inspiring people to take the fight local. Right now, while Congress is on recess, we're mobilizing our growing grassroots network of Team Internet volunteers to organize in their communities and urge their lawmakers to stand up for the current rules. With continued member support we'll get even bigger and louder in the crucial weeks and months ahead. 
When you give to Free Press you're not just fueling the fight for Net Neutrality; you're also making it possible for us to stay independent. That's because everything we do is funded solely by contributions from individuals and charitable foundations — we don't take a cent from business, government or political parties.
It makes a difference: Throughout our 14-year history, we've advocated for the public interest every single day — no matter who's been in charge in Washington or calling the shots in industry boardrooms. Your generosity makes our independence — and so much more — possible. We can't say thank you enough.
We welcome your support at any time. To make a gift today, please click here.