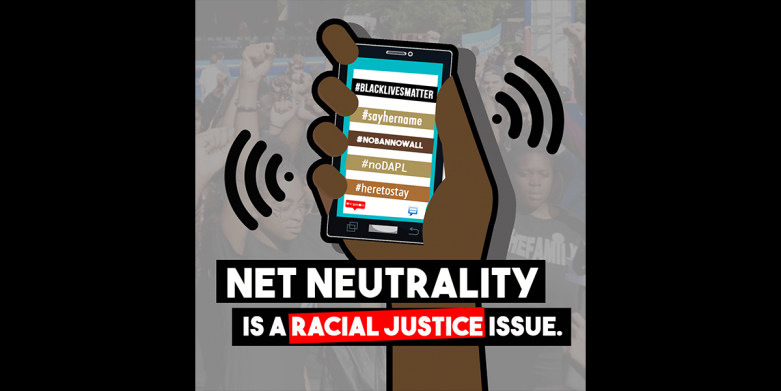 The Voices for Internet Freedom Coalition Urges the Trump FCC to Keep the Net Neutrality Rules
Voices for Internet Freedom, a coalition fighting for the digital rights of communities of color, on Wednesday called on the Federal Communications Commission to preserve its Net Neutrality rules.
The Voices coalition filed comments with the FCC on behalf of 73 racial-justice, digital-rights and media groups. The comments urge the Commission not to kill its 2015 Net Neutrality rules because doing so would disproportionately impact and discriminate against communities of color.
Those rules prevent internet service providers like AT&T, Comcast and Verizon from blocking and throttling online traffic and creating a pay-for-play internet where only a handful of wealthy companies could afford to pay for speedier access to their sites and platforms.  And basing these protections on Title II of the Communications Act ensures the FCC has the legal authority to enforce real Net Neutrality. Federal courts have twice upheld the 2015 rules.
But FCC Chairman Ajit Pai intends to kill Net Neutrality.
In its filing, Voices urged the Commission to protect Net Neutrality because it's a critical racial-justice issue. It has enabled people of color to speak for themselves online and advocate for the health and well being of their communities.
The Voices coalition is led by Color Of Change, the Center for Media Justice, Free Press and the National Hispanic Media Coalition.
Below is a list of organizations that signed on to the Voices' reply comments:
National Hispanic Media Coalition
Center for Media Justice
Color Of Change
Free Press
18MillionRising.org
Access Humboldt
Alternate ROOTS
Appalshop
Arts & Democracy
Asamblea de Derechos Civiles
Allied Media Projects
BYP100
Center for Rural Strategies
Center for Social Inclusion
Chinese Progressive Association
Common Cause
Common Frequency
#Cut50
DigiColor
Dignity and Power Now
Dream Corps
Equality Labs
Families for Freedom
Forward Together
Families Rally for Emancipation and Empowerment
Generation Justice
Global Action Project
Highlander Research Center
Hollaback!
Human Pictures
Ignite NC
Iguana Films, LLC
Instituto de Educacion Popular del Sur de California (IDEPSCA)
Iraq Veterans Against The War
KRSM Radio
LatinoRebels.com
Line Break Media
Livier Productions, Inc.
#LoveArmy
Martinez Street Women's Center
May First/People Link
Media Action Center
Media Alliance
Media Mobilizing Project
MPower Change
MomsRising.org
Movement Strategy Center
Native Public Media
Neighborhood Leadership and Organizing Program
New Sanctuary Coalition
Open Access Communications
OVEC – Ohio Valley Environmental Coalition
Parks and Power
People's Action
PhillyCAM
Presente.org
Progressive Technology Project
Prometheus Radio Project
Race Forward
Radio Bilingue
Rebuild the Dream
Somos Un Pueblo Unido
Stop LAPD Spying Coalition
United Church of Christ Office of Communication Inc.
Urbana-Champaign Independent Media Center
Voices for Racial Justice
Washington Peace Center
WFNU Frogtown Community Radio
The Whitman Institute
WITNESS
Working Films
Working Narratives
#YesWeCode