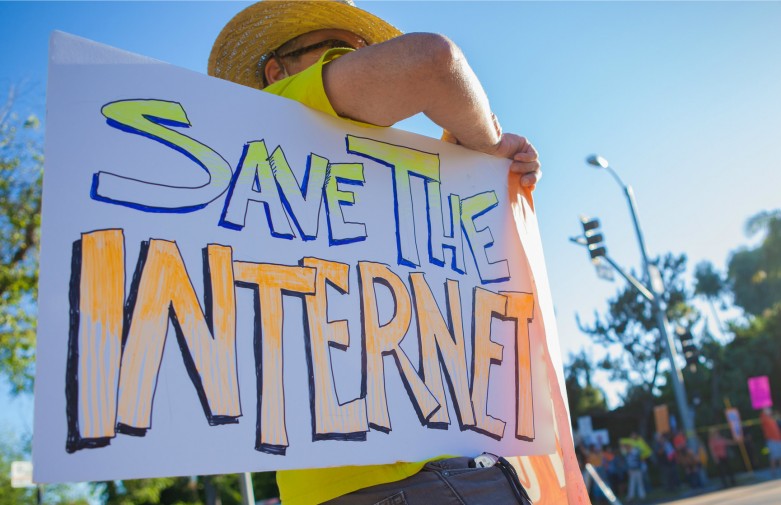 Two Dedicated Activists Provide Crucial Support for Team Internet
Team Internet is a network of volunteers combining people power with technology to mobilize people across the country to pressure their lawmakers to stand up for Net Neutrality. Free Press Action Fund, Demand Progress and Fight for the Future launched the project in July.
Since then, Team Internet volunteers have spoken in person about Net Neutrality to 200 members of Congress or their staff at both town halls and in-district meetings. Activists Iliana Gomez and Lesley Perg provide a critical backbone of support for Team Internet's organizing infrastructure to make that happen. Since the end of August, they've done nearly all the work of the host-support team.
This team has provided assistance to the scores of individuals — or hosts — who have organized meetings about Net Neutrality with their local congressional offices through Team Internet. Gomez and Perg call hosts and talk them through the details of their events, ensuring they have all the materials they need and are prepared to meet fellow activists and their lawmakers. 
Perg is a 44-year-old climate scientist based on St. Paul, Minnesota, who is on disability for mental-health reasons and teaches GED and citizenship classes to communities of color.
"What makes me feel good and helps keep me stable with activism is an outgrowth of my volunteering to try to make the world a little better, which is what I wanted to dedicate my life to after I became bipolar," said Perg. "It is really … a personal journey, wanting to create and nurture communities.
"I'm open about having bipolar. I think it's important for people to know that there are lots of functional people. Mental illness is one of the things that's most stigmatized in this society."
Perg's host-support partner, Iliana Gomez, is a 20-year-old college student. She initially got involved with Team Internet's texting team.
"I'm typically shy," she said. The texting team appealed, she added, "because you're texting other people and you don't have to speak to them so I decided that it would be a good opportunity for me to try out."
A fellow Team Internet volunteer later introduced Gomez to the host-support team and she decided to check it out. Now she says that talking to hosts is one of the things she values most about being on Team Internet. "Many of them are already veteran activists; they're really prepared to do what it takes to protect Net Neutrality. It's fun to learn from them."
Perg also enjoys talking to hosts. "I really like talking with different people. ... A lot of times I hear their stories about what they want to tell their representatives. We send out a lot of information so it's really rewarding to help people navigate so that they feel confident."
Two hosts in particular stood out to Perg. One, in California, "co-owns a computer-repair shop. She learned how to repair computers by using the internet." 
The second, in Ohio, "is an experienced advocate for lots of causes. She was collecting stories for her congresswoman about small businesses that would be affected by the loss of Net Neutrality" so Perg contributed a story for her to use.
Perg and Gomez work together closely. "Earlier today we talked about how we can improve how we talk to hosts," said Gomez. "That kind of back and forth, it's nice to be supported."
As they've gotten more involved with Team Internet, the pair has taken the initiative to refine the work of the host-support team, making suggestions, for example, about the script used to talk to hosts or the methods of support for hosts. 
"There are times when [hosts] want to get people to come [on their visits]. They're not sure that they're going to make an impact, so I was sending emails to them on ways to get more people on their side," said Gomez.
Perg has volunteered to arrange a meeting with her own lawmaker. "I'm also going through the process, I'm starting an event at my representative's office. I got to talk to him briefly in the hall during the [Sept. 27] Day of Advocacy so I have hope. So that way, I'll also get to learn the whole process that hosts are going through so I'll be better able to support people."
During the September Day of Advocacy, more than 60 Team Internet members converged on the Capitol to advocate on behalf of Net Neutrality with their congresspeople.
Volunteers like Perg and Gomez have the power to transform the political context for Net Neutrality as everyday people did in 2014–2015 when millions of activists pushed the FCC to adopt the open-internet rules.
There's a whole range of roles for Team Internet activists; you can get involved by going to battleforthenet.com/jointeaminternet.