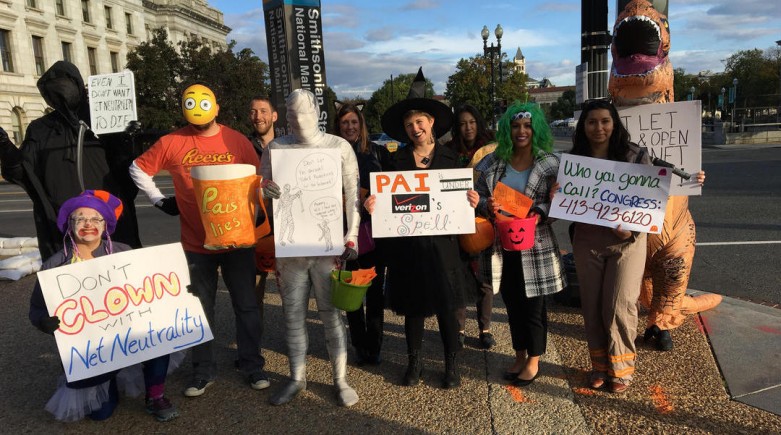 Trick or Treating for Net Neutrality
FCC Chairman Ajit Pai is super-proud of his oversized Reese's coffee cup — so Free Press President and CEO Craig Aaron decided to dress up as the infamous mug during our Net Neutrality protest in Washington, D.C., on Monday morning.
Activists and advocates greeted about 400 rush-hour commuters outside the Smithsonian metro stop with Halloween candy — including Pai's prized peanut-butter cups — and flyers that debunked the chairman's many, many lies about the 2015 rules that safeguard free expression and choice online. Among the participants were a witch from Verizon who's cast a spell on Pai, a mummy who sees Pai's fibs unraveling, two ghostbusters and a clown.
Afterwards the group marched down to the FCC and distributed goodies and flyers to agency staff entering the building. (Check out video of today's action.)
With Pai expected to schedule a vote on his disastrous plan by year's end, we're running out of time to save the open internet. We need to do everything we can to get as many members of Congress as possible to speak out against Pai's proposal.
But we're hearing from lawmakers who are on the fence that they need to hear from more constituents to act on this.
Don't delay: Call Congress and tell your lawmakers to stand up for real Net Neutrality. Our user-friendly call tool will connect you with one click.
Need some seasonal inspiration? Scroll below for some photos of this morning's action, and click here to view the entire Flickr album.