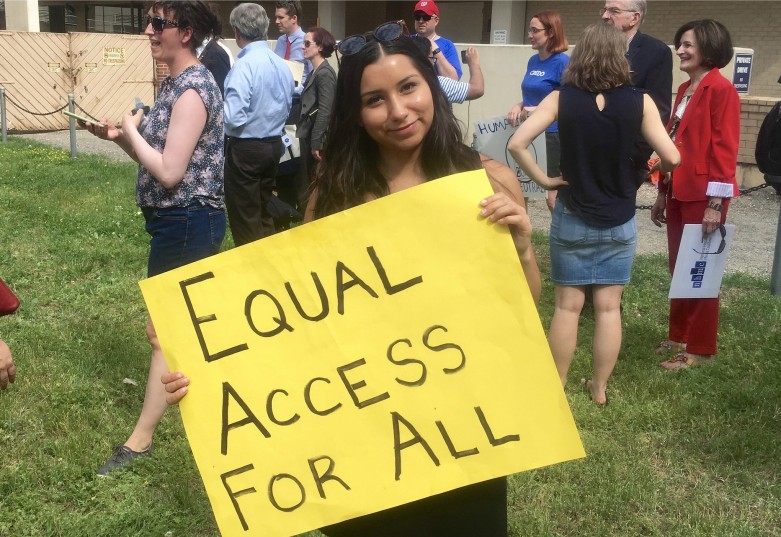 The Movement to Stop Chairman Pai from Breaking the Internet
Millions of people have gotten involved in the Net Neutrality fight since word of FCC Chairman Ajit Pai's awful plan broke through in a big way last Tuesday.
#NetNeutrality trended globally on Twitter that day and was the top-trending hashtag in the United States. Redditors representing a dizzying range of political philosophies and subcultures spoke out: In fact, the most popular post in the NASCAR group's entire history is about the need to save the open internet.
People are backing up the social-media outcry with all kinds of activism. Since last Tuesday, people have made over 600,000 calls to Congress to urge lawmakers to condemn Pai's plan.
In fact, Capitol Hill staffers are feeling so besieged that a few have reached out and asked us to make the calls stop.
That means the pressure is working. Need some proof? On Saturday, Sen. Susan Collins of Maine became the first GOP senator to publicly oppose Pai's proposal, joining scores of Democratic leaders who have spoken out over the last few months.
Among those leaders is longtime Net Neutrality advocate Sen. Jeff Merkley, who tweeted:
Hundreds of Oregonians called my office in support of #NetNeutrality last week.

How many called in opposition? Zero.

The Trump administration's plans to dismantle net neutrality would be a massive blow to Internet users (i.e., you!). We must keep fighting to #SaveNetNeutrality

— Senator Jeff Merkley (@SenJeffMerkley) November 27, 2017
That's not all: Since Pai was once a Verizon lawyer — and is, let's face it, still working for the company — people are organizing protests outside corporate-owned Verizon stores all across the country.
As of today there are 600 protests in the works in all 50 states in cities including Atlanta, Boston, Denver, Des Moines, Miami, New York City, Salt Lake City, San Francisco and Wichita. We're working with our Team Internet partners Demand Progress and Fight for the Future to give people the tools they need to recruit fellow activists and highlight their message to passersby.
Though the Verizon protests will take place on Dec. 7, folks in Los Angeles didn't want to wait until then to speak out: Dozens of activists demonstrated outside the federal building in the city's Westwood neighborhood on Nov. 28.
We're also teaming up with our partners in the Voices for Internet Freedom Coalition — which fights for the digital rights of communities of color — to present a Net Neutrality Wake-Up Call Rally outside the FCC the morning of the big vote. Activists, artists, musicians, lawmakers, former FCC commissioners and others who are committed to fighting for both Net Neutrality and racial justice will be there.
All of this activity comes on the heels of an epic FCC comment period in which more than 20 million people weighed in on Chairman Pai's Net Neutrality-killing plan. A whopping 98.5 percent of individual comments support keeping the open-internet rules.
Pai has ridiculed all of this activism as "fear-mongering and hysteria" — and even maligned celebrities like Alyssa Milano, Cher and Mark Ruffalo for speaking out.
We know the truth: People like you are making a difference.
The movement in 2014–15 to get real Net Neutrality was huge. But this moment we're in right now is smashing all records. In all the years we've spent fighting to protect the open internet, we've never seen anything like it.
So don't give up, because this fight isn't over. Go to a Verizon protest on Dec. 7; if you're on the East Coast, see if you can make it to D.C. for the big rally on Dec. 14.
Keep fighting like hell to save the internet you love.
Photo courtesy of Maria Merkulova