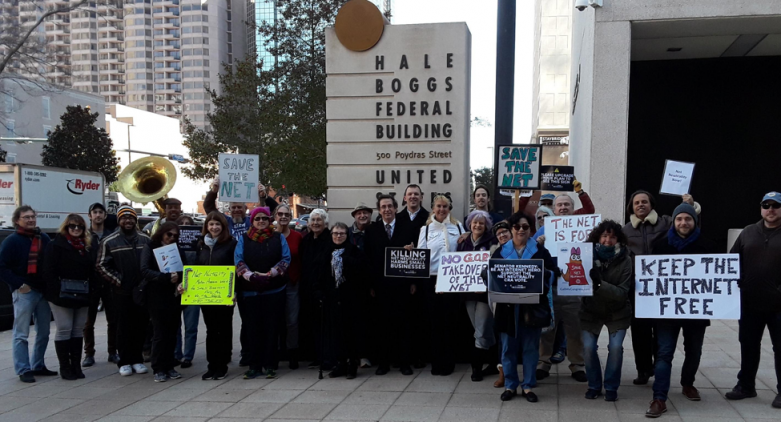 Sen. John Kennedy Could Be the Internet's Hero
Who isn't talking about Net Neutrality at this point?
Burger King has thrown its weight behind it. Massive tech companies like Amazon and Google support it. Eighty-three percent of the American public —  including three out of four Republicans — opposed the FCC's destruction of it.
And as Congress considers a measure that would overturn the FCC's vote that destroyed Net Neutrality and put the internet's entire future at risk, all eyes are on Sen. John Kennedy of Louisiana.
Right now that measure has 50 supporters in the Senate — and needs just one more vote to pass.
Kennedy has been telling the press that he's "honestly undecided" and that it's a "very, very close call." Activists and advocates have been cheering the senator on, calling on him to be a hero and stand up for his constituents and the open internet.
This week activists showed up at the senator's offices in Baton Rouge, Lafayette, New Orleans and Shreveport to deliver more than 6,000 petition signatures from constituents urging Kennedy to back the resolution of disapproval to reverse the FCC's bad decision.
The actions were organized by Team Internet, a decentralized group of volunteers coordinated by Demand Progress, Fight for the Future and Free Press Action Fund.
In Lafayette, Layne St. Jude, a Team Internet volunteer, told reporters that they were there to "let [Sen. Kennedy] know that he'll be our hero if he votes to protect Net Neutrality."
In New Orleans, a crowd of about 30 people accompanied by a brass band turned out to deliver the signatures. "Net Neutrality makes America work for small businesses and for we, the people," read one handwritten sign. "Stop the FCC."
People across Louisiana have long thrown their support behind the open internet. Throughout the FCC's open comment period on Net Neutrality, constituents filed their own stories urging the agency to do the right thing.
"The internet has become an invaluable tool for many people who work from home or have their own businesses," said Jas Duplessis of Baton Rouge. "Restricting it minimizes the opportunity people have to make their own place in the world financially, destroys a large aspect of the free market and takes away from the American dream."
"As the founder and owner of a small tech company, the enforceability of Net Neutrality is vital to my business," said Khaled Alquaddoomi of New Orleans.
The open internet is crucial to the livelihood of Kristina Sherbourne of Baton Rouge:
My interest in Net Neutrality is twofold. [In] my full-time job, I work at an all-girls' high school with a focus on technology, and in my personal life, I'm an online entrepreneur who uses the internet as my main pathway to reach clients, market myself and my services, find resources and communicate with peers in my industry.

I simply can't understate the vast potential that equal internet access provides to students both young and old. The immense array of resources available online is absolutely priceless — and students of all ages and walks of life shouldn't be limited in their access to information because ISPs are able to favor their own platforms and companies.

Likewise, I rely on fast, inexpensive internet access at home to be able to run my design business. I can choose from a range of website providers, email providers, cloud-storage providers and other online services freely. This is so, so important to me and thousands of other entrepreneurs who rely on the internet as their sole storefront, advertising platform and much more.
"I'm a small-business owner and a believer in capital markets but without meaningful legislation, small and medium-sized businesses simply cannot complete," said New Orleans carpenter Josh Overman. "As a builder and a third-generation carpenter, I've seen unchecked corporate greed wipe out virtually all independent lumberyards and in most cases, the products I buy are now of lower quality. The big-box stores also don't sell many of the products I used to buy from local independent specialty dealers. If protections for Net Neutrality go away, the same will happen to [small] internet-based companies."
"As a Louisiana Republican I personally am in support of strong Net Neutrality backed by Title II oversight of ISPs," said Thomas Gary of New Iberia. "Let the free market reign by keeping the internet an equal playing field for small startups [so they can compete with] big companies with big pockets."
Many of Louisiana's small-business owners sell through online marketplaces like Etsy that have long championed Net Neutrality.
"I'm a small-business owner," wrote Hanley Hamblin of West Monroe. "I started a small Etsy-based business to help contribute to my family's income while I care for my young son who has autism. I believe that Net Neutrality helps to level the playing field for small businesses, especially those that are closely connected to their niche customers."   
"Net Neutrality shouldn't even be up for debate," wrote Gelon Madison of Kenner. "Is free speech necessary? Is the right to assemble, such as one can in communities on the internet, no longer a right? I am both very angry and afraid that this is on the table for abolition.
"I'm a young Black mother of a Black family in a society that still believes our lives do not matter. Were it not for the internet, where people like me can share and support each other, I'm certain things would be much worse for me and my children."
This Friday at 12:30 p.m. EST we're hosting a special webinar on Net Neutrality and Louisiana: Sign up here.
Check out some inspiring images from this week's action: