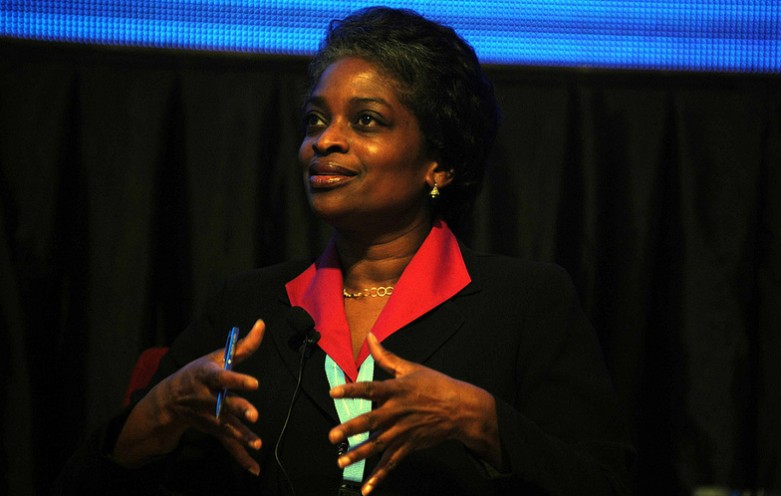 Time for Change: First Woman Takes Helm at the FCC
This post previously appeared in New America Media.
It's important to celebrate whenever social barriers are knocked down — including the one that fell on Monday when Mignon Clyburn became the acting chairwoman of the Federal Communications Commission.
Never before has a president appointed a woman to chair the commission — not even on an interim basis.
It's not the first time Clyburn has made history. She's also the first African-American woman to serve as an FCC commissioner.
But there are still many barriers that need to be knocked down. For one, we need to remove the "acting" title for the next woman to chair the FCC.
Clyburn's accomplishment is also an opportunity to reflect on the FCC's history of permitting and even exacerbating inequality. For evidence, just consider the impact of the agency's policy decisions on women and people of color.
It's no accident that our nation's media system looks the way it does; it reflects our nation's legacy of discrimination. Most of our first broadcast licenses were allocated to white men or white-run companies. And not much has changed.
People of color own just 3 percent of all full-power TV stations and less than 8 percent of all full-power radio stations. Women own less than 7 percent of all full-power broadcast stations. These statistics explain both the lack of diversity among staff at broadcast outlets and the paltry amount of programming featuring people of color.
But instead of adopting policies that would boost ownership diversity, the FCC and Congress have consistently allowed greater consolidation. Thanks to socioeconomic conditions, the FCC's approach has made it even more difficult for women and people of color to buy broadcast stations.
That's why it was troubling when former FCC Chairman Julius Genachowski pushed for more consolidation during his tenure. One of his last moves involved a policy proposal that would allow companies to own broadcast stations and newspapers in the same market — a matter that's still pending before the commission.
The FCC has long placated broadband and wireless companies — and Genachowski didn't buck this trend. He failed to protect the open Internet with strong Net Neutrality rules. And he failed to provide more options for affordable broadband access, leaving many households disconnected.
While politicians and media figures often talk about the importance of our nation's changing demographics, few are willing to do anything to make our media system more representative of the population it serves.
There's hope that Clyburn can begin the important work of ensuring the FCC places the interests of the public over those of a small corporate elite.
Clyburn has defended the Lifeline program — which provides access to basic phone service for poor households — against political attacks. She's spoken out against the unlawful practice of charging predatory rates for phone calls that prisoners make to families and friends. Clyburn should pass an order to end this practice — and should also direct the Commission to conduct studies to address the shameful state of broadcast ownership diversity.
President Obama has nominated Tom Wheeler, a major donor to his presidential campaign who formerly headed the trade associations for both the cable and wireless industries, as Clyburn's successor. The president's choice of an industry lobbyist to lead an agency established to serve the public interest has troubled many.
Until the next chair is confirmed, Clyburn should do everything she can to gain back the public's trust in the Commission.
Joseph Torres is the senior external affairs director for Free Press.
---
Original photo by Flickr user Itupictures