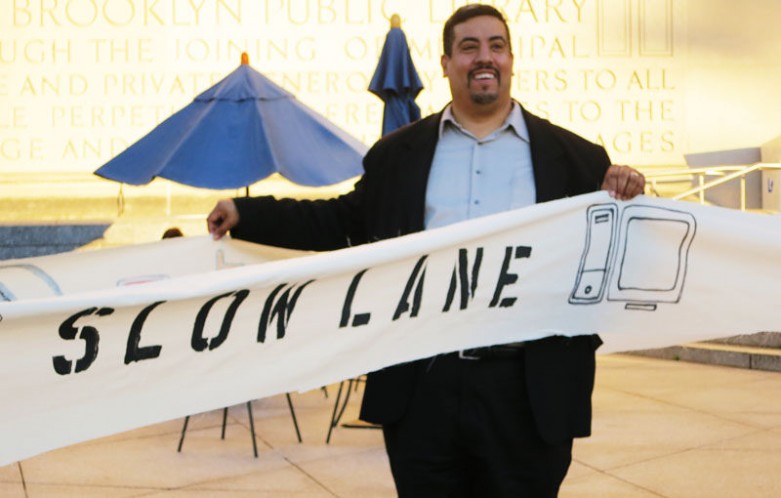 Why I Fight: For Racial Justice
The protests over the police killings of unarmed Black men and children are forcing people to confront our nation's unjust criminal justice system.
They're also forcing us to confront the media's stereotypical coverage of communities of color.
Throughout our history, the media have depicted people of color as a threat to society. This is why so much coverage of Black and Brown communities focuses on crime.
Instead of covering the structural causes of racism, media outlets make matters worse by covering racial unrest like it's a sporting event or a soap opera.
This is why I fight.
Working at Free Press has enabled me to push for the kinds of media policies our communities deserve.
People of color need to be able to tell our own stories. But it's difficult to advocate for our well-being when we own so little of our nation's communications infrastructure.
While people of color will make up the majority of the U.S. population within the next few decades, we own few TV, radio and cable outlets.
This is why I'm fighting the Comcast-Time Warner Cable merger and other forms of media consolidation: because they come at the expense of ownership diversity. And it's why Free Press is working with the Center for Media Justice, ColorOfChange.org, the National Hispanic Media Coalition and Presente.org to protect an open Internet.
We're fighting to make sure the Internet remains an open platform for free speech and for dissident voices to speak out for a more equitable and just society. To accomplish this, we need media policies that will raise our voices instead of silencing them.
This is why I'm asking for your help. As we look to 2015, I hope you'll join me in becoming a Free Press donor.
Donations of any size — even $5 — make a huge difference. We don't take money from business, government or political parties so your donation will help us keep fighting for the media system we deserve.
---
Check out the first post in this series, "Why I Fight: To Preserve the Internet's Level Playing Field" by Julia Graber.