From #ReclaimMLK to #BlackLivesMatter, the Fight for Racial Justice Continues
As the country celebrates Dr. Martin Luther King Jr.'s birthday, activists are attempting to reclaim the civil rights leader's legacy.
The movement that Dr. King led for civil rights and against economic inequality, poverty and the Vietnam War is so relevant to what's happening today in the fight for racial justice. And on a personal level, it's a reminder of why I'm a media activist: because it's so critical for communities of color to be able to tell our own stories and speak for ourselves.
But over the decades, politicians and the media have sanitized Dr. King's legacy, portraying him as a saintly Black man who led a non-violent struggle for racial equality. This depiction has made him less threatening and more palatable to the White community.
Gone are discussions about Dr. King's revolutionary politics.  At the time of his death, Dr. King was one of the most disliked public figures in our country. Our government viewed him as a threat for opposing the Vietnam War and the FBI tried to destroy his reputation.
This is why activists are using the Internet and the hashtag #ReclaimMLK to recapture Dr. King's legacy and show that young activists are continuing in his struggle.  And the Internet has enabled movements like Black Lives Matter and Ferguson Action to organize online.
Earlier this month, a delegation of activists assembled by the Center for Media Justice lobbied the FCC and Reps. Hakeem Jeffries, John Lewis and the office of Maxine Waters to support Net Neutrality. The group included Opal Tometi, a co-founder of Black Lives Matter, ColorOfChange.org, and activists from Ferguson, including an organizer who met with members of the Congressional Black Caucus and the FCC the week before the official delegation visit. Members of the Free Press Action Fund had the honor of accompanying the delegation.
The group told regulators and lawmakers that the open Internet has been essential in the fight against police violence and anti-Black media bias.
The visit's highlight was a meeting with civil rights icon Rep. John Lewis, who chaired the Student Nonviolent Coordinating Committee and was severely beaten by police while crossing the Edmund Pettus Bridge during the 1965 march from Selma to Montgomery.
During our meeting, Lewis told the delegation that he supports strong Net Neutrality protections and noted that the civil rights movement would have accomplished much more if an open Internet had existed during the 1960s. 
This is why it's so crucial for the FCC to adopt Net Neutrality rules under Title II on Feb. 26. We need to ensure that the Internet remains open and free from discrimination so that our voices are never silenced and so that history, and the lessons learned, are never forgotten.
Check out the photos below from our visit.
The delegation en route to meetings: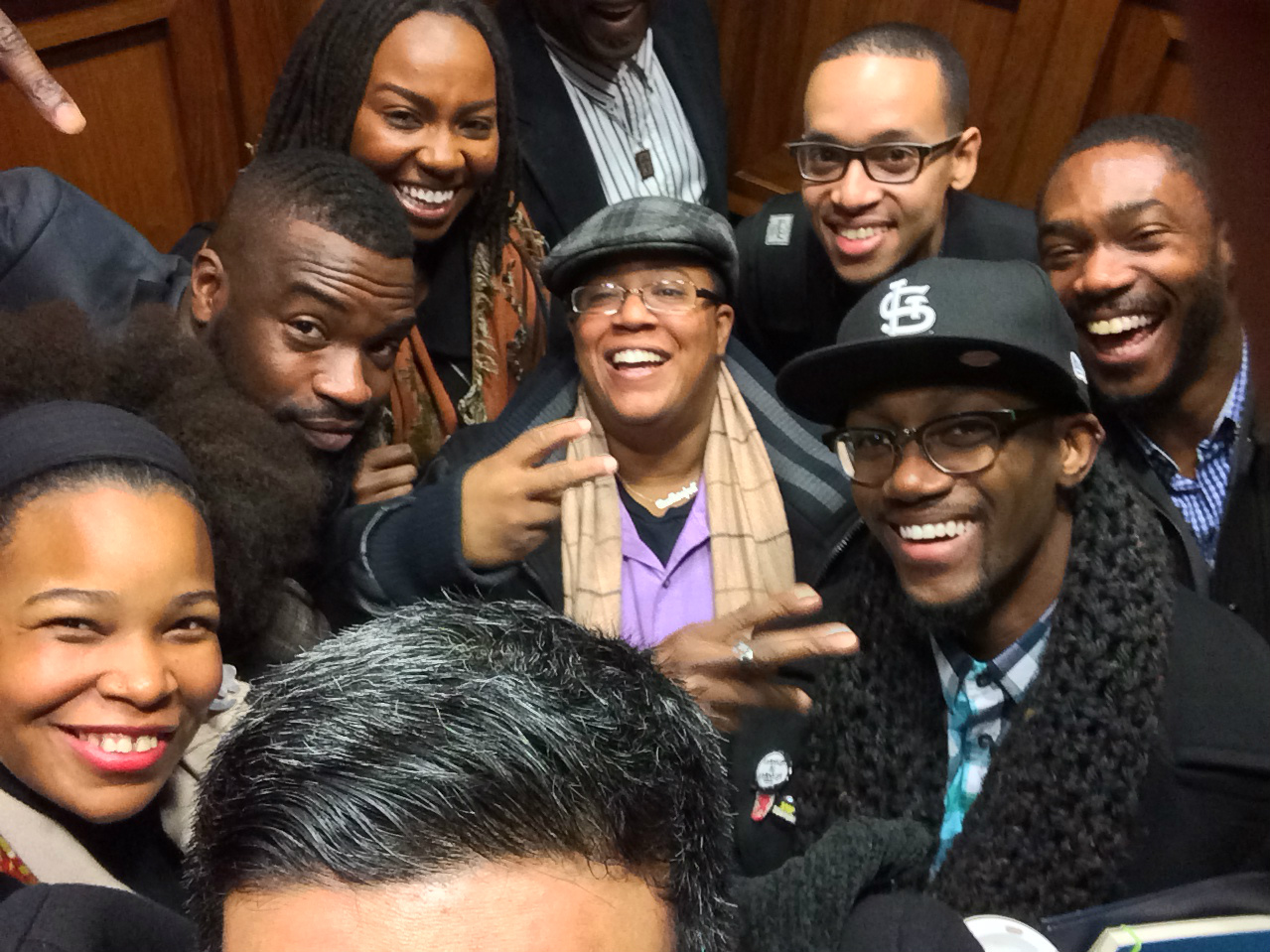 Meeting with FCC Special Counsel Gigi Sohn:
Meeting with Rep. Hakeem Jeffries:
Image at the top of the post, from left to right: Ferguson organizer Larry Fellows III, Lauren Wilson of the Free Press Action Fund, Dante Barry of the Center for Media Justice and the Million Hoodies Movement for Justice, Rep. John Lewis, Enoch Miller of the Urbana-Champaign Media Center, Darnell Moore of Black Lives Matter, Malkia Cyril of the Center for Media Justice, Dallas Donnell of ColorOfChange.org, Sala Cyril of the Malcolm X Grassroots Movement, Joseph Torres of the Free Press Action Fund and Opal Tometi of the Black Alliance for Just Immigration