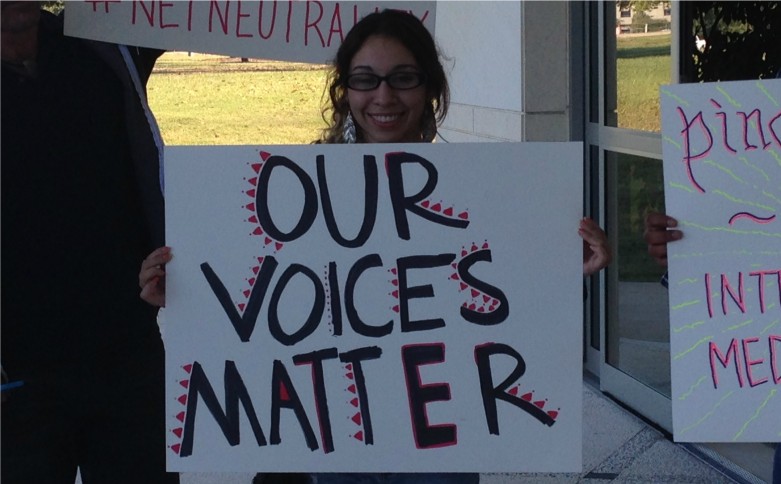 A New Generation of Civil Rights Leaders Applaud Chairman Wheeler's Proposal to Pass Strong Network Neutrality Rules
This post originally appeared on the Center for Media Justice blog.
On Tuesday, 30 members of Congress signed a letter put forward by Reps. Maxine Waters and Keith Ellison, urging the Federal Communications Commission to guarantee Net Neutrality by reclassifying broadband under Title II of the Communications Act.
Today, Federal Communications Commission Chairman Tom Wheeler detailed plans to do just that, and a new generation of civil rights leaders couldn't be happier.
According to an article Chairman Wheeler penned in Wired Magazine, the proposed Net Neutrality rules would reclassify the Internet as a Title II service under the Communications Act.  Those rules, he says, will keep the Internet "fast, fair, and open", and will protect all Internet users, whether they access the Internet from a tablet, a phone, or a computer.  The rules will be voted on at the FCC's next public meeting, scheduled for February 26th.
Civil rights organizations including the Center for Media Justice, home of the Media Action Grassroots Network, the Black Lives Matter Network, ColorofChange.org and diverse organizations in the movement for immigrant rights along with more than 100 other civil rights groups have come together through the Voices for Internet Freedom Coalition to vigorously applaud this historic proposal.
"Todays proposed rules are a critical step in the process of closing the economic, educational, and other racial equity gaps that disadvantage communities of color.  The new generation of civil rights leaders that has emerged to tackle these divides applauds Chairman Wheeler's proposal to ground strong Net Neutrality rules in Title II authority," said Steven Renderos, national organizer at the Media Action Grassroots Network.
"Chairman Wheeler's stand today for accessible Internet that provides strong Net Neutrality protections are very exciting for Latino and immigrant communities across the US. Access to a free and open internet is an essential element to success for our communities in modern America.  Protections are especially important to low-income communities, immigrant, and communities of color who have found themselves at the whim of telecom corporate interests for their access. We look forward to reviewing the details and ensuring that strong net neutrality protections under Title II are put in place to protect net neutrality, and our communities' access to the internet, for generations to come," said Arturo Carmona, executive director of Presente.org
"Communities of color, including migrant communities, are less likely to enjoy broadband connections at home, and are more likely to rely on mobile devices as their sole access to the Internet.  So we are especially pleased to hear that proposed net neutrality rules will protect users of both fixed and mobile broadband," offered Opal Tometi, director of the Black Alliance for Justice Immigration and co-founder of the Black Lives Matter Network.
Malkia Cyril, Director of the Center for Media Justice, says while there's cause for celebration, the devil is in the details. "We're excited that Chairman Wheeler has thoughtfully chosen to put forward rules that place the voices of those without corporate lobbyists on equal footing with those who do.  We look forward to reviewing the specific language of the proposed rules before fully evaluating its impact.  What remains paramount is that all communities, regardless of race or income, have an equal voice in deciding the future of the most democratic and decentralized communications technology the world has ever known."
While next generation civil rights leaders welcome the rules proposed by Chairman Wheeler today, a handful of Black members of Congress with financial ties to the cable industry remain opposed.  In response, members of the Voices for Internet Freedom Coalition, joined a campaign led by member ColorofChange.org, the largest online civil rights group in the country. The campaign urges these congressional members not to derail Wheeler's proposed Net Neutrality rules, which promise to be a historic victory for civil rights.