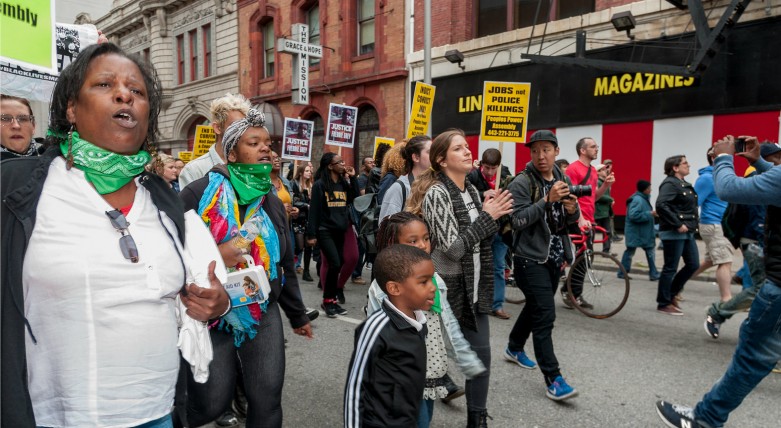 Arrests in Baltimore Highlight Need to Protect the Right to Record
The recent events in Baltimore have brought into sharp focus the perils of journalists and everyday people who exercise their constitutionally protected rights to report freely and record police activity.
Since the protests began over Freddie Gray's arrest and subsequent death at the hands of police, at least three journalists in Baltimore have been attacked or arrested for documenting police activity.  
Baltimore police beat City Paper photo editor J.M. Giordano on April 25 after a nearby protester threw a rock at an officer. "They just swarmed over me," Giordano told City Paper. "I got hit. My head hit the ground. They were hitting me, then someone pulled me out." Giordano wasn't arrested — probably, he said, because police recognized him as a member of the press.
Police did arrest at least two other journalists, Reuters photographer Sait Serkan Gurbuz and freelance photojournalist Shawn Carrié.
Carrié's arrest was captured on video, and he's heard saying "I'm not resisting" and "You're hurting my back!" He later told City Paper he had been taking pictures when a pepper pellet struck him in the head. Carrié was released after 48 hours without being charged, and was later diagnosed with a concussion.
But journalists aren't the only ones who have been arrested for documenting police. Bystander Kevin Moore, who filmed Gray's agonizing arrest on April 12, was himself detained and released without explanation last Thursday evening, and police have allegedly harassed and intimidated Moore since his video went viral.
This is no aberration, but rather the latest reminder of how law enforcement often targets journalists and others for documenting police activity.
It's easy to wag our fingers at other countries that arrest and detain journalists, or regimes that block websites. We're in what the Committee to Protect Journalists recently called the "most deadly and dangerous period for journalists in recent history."
But make no mistake: The right to report is under threat here in the United States. It's not just Baltimore.
In honor of World Press Freedom Day, President Obama recently met with journalists from other countries who have been persecuted for their reporting: Fatima Tlisova of Russia, Dieu Cay of Vietnam and Lily Mengesha of Ethiopia. At the ceremony, Obama mentioned the crucial role journalism played in the civil rights movement, especially during the Selma marches:
… Had there not been good reporters like Mr. Bill Plante at that bridge that day, America's conscience might not have been stirred and we might not have seen the changes that needed to be made. So that's just one example of why press freedom is so important.
Obama's meeting with these journalists is encouraging. But the administration needs to do more to protect journalists at home.
During the Ferguson protests, the Freedom of the Press Foundation documented the arrests of 24 journalists. Four of those journalists filed a lawsuit in March against the St. Louis Police, 20 of their officers and the county. 
In a time when everyone with a smartphone can perform acts of journalism, those who are brave enough to document police activity, like Kevin Moore, may become targets for law enforcement. It's not unusual for those who document police abuse to fear retribution.
Ramsey Orta, who recorded the death of Eric Garner in Staten Island last summer, was arrested shortly thereafter on an unrelated weapons charge after the Staten Island coroner declared the killing a homicide. In February he was arrested again and jailed on a drug charge. He was released just a few weeks ago, and has repeatedly said that the arrests were payback for releasing the Garner video. His family members have also been harassed and arrested.
Feidin Santana, who documented a police officer in North Charleston, S.C., killing Walter Scott, said in interviews that fears for his life almost stopped him from releasing the video.
"I felt that my life, with this information, might be in danger," Santana said in an interview with MSNBC. "I thought about erasing the video and just getting out of the community, you know, Charleston, and living someplace else."
Some states, like Texas and Illinois, have attempted to curtail the right to record police, but efforts in both places were unsuccessful. The Department of Justice has expressed support for the right to document law enforcement in the line of duty. But the DoJ should go further to ensure that the right to record police activity is protected so that journalists and everyday people alike aren't harassed if they expose potential abuses.
The police are facing greater scrutiny because the technology to capture the news as it's happening — and back it up so law enforcement can't delete it — is available to the public. That's a good thing in a democracy, and we must protect the rights of both journalists and everyday people to bear witness and shine a light on injustice.
Original photo by Flickr user Chuck Patch