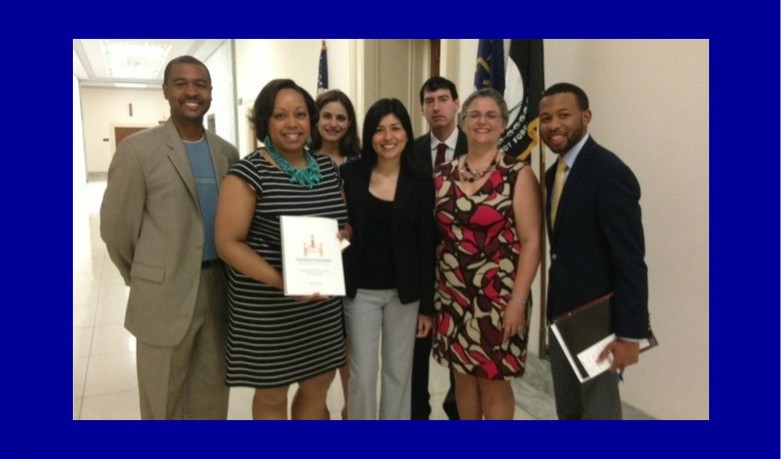 Faithful Internet: A Big Week
This post originally appeared on the website for the United Church of Christ's Office of Communication, Inc.
For the last nine months, the UCC OC Inc. has been collaborating with people of faith and faith leaders around the country on our Faithful Internet campaign, co-led by me and Valarie Kaur, lawyer, faith leader and filmmaker extraordinaire. It has been a great privilege to see so many faith leaders consider, some for the first time, the importance of an open Internet for their work as clergy and as social justice advocates.
Our work culminated this week in a social media Thunderclap campaign that reached over a million people. On a visit to the Congressional Black Caucus we delivered faith-leader testimonials and our Groundswell petition signed by more than 1,200 people, and we released Valarie's beautiful video First We Pray, Then We Organize, which is featured on the Huffington Post. We have been joined on this journey by so many allies, from the U.S. Conference of Catholic Bishops to Rev. William Barber II to Rev. Otis Moss III.
The video, petitions, testimonials and campaigns all have one central message: Communities of faith and social justice advocates cannot perform their work in the 21st century without a free and open Internet. Without Net Neutrality, which the FCC adopted this year, faith leaders and institutions would have to pay for their websites and their content to have equal and fair treatment on the Internet. Without Net Neutrality, content from civil rights and social justice leaders would be trapped behind the "buffering wheel of death" while only content from a few wealthy providers would be easily and readily accessible. 
On my visit to the Congressional Black Caucus on Thursday morning, I was joined by my colleagues in the United Church of Christ, both local and national leaders, as well as the Media Action Grassroots Network and one of our Faithful Internet fellows. We visited with the policy director and the director of external affairs of the CBC, asking them to convey to the current chair of the CBC, Congressman Butterfield, that we're concerned about Butterfield's position on Net Neutrality.
Late last year, President Obama proclaimed his continued support of full and robust Net Neutrality, and in February 2015, the FCC voted to adopt strong rules protecting us. Since then, opponents of Net Neutrality have been advocating for congressional legislation to weaken the FCC's decision.
While the Democratic caucus has stood behind the Obama FCC, Congressman Butterfield has stated publicly that he supports an effort in this Congress to change the FCC's decision. We have little hope that the current Congress could ever adopt protections as strong as the rules adopted by the current FCC, and we don't want this Congress — which has not proven to be a friend of social justice issues — to replace strong protections with false ones. 
Of course, members of Congress are always going to be willing to have a dialogue with their colleagues; without those civil conversations our democracy would only become more partisan and more craven. But we hope none of our leaders will be fooled by efforts to undermine Net Neutrality that are disguised as compromise.
While on Thursday Net Neutrality opponents filed their legal attacks on the rules, the FCC's decision was strong, legally sound, and done with fealty to the law that mandates that all people in the U.S. should receive fair and equal access to communications technology. Nothing less will do.
We hope Congressman Butterfield, as chair of the CBC, will follow the lead of caucus members and great heroes like Rep. John Lewis, Rep. Keith Ellison, Rep. Bobby Scott, Rep. Barbara Lee, and Rep. Chaka Fattah, who have led the way and supported strong Net Neutrality protections. The great civil rights victories of the future depend on it.
Cheryl Leanza is the policy adviser for the United Church of Christ's Office of Communication, Inc.