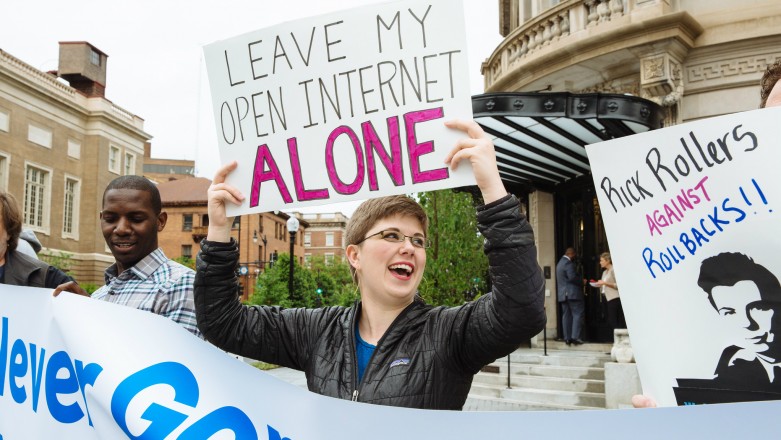 Net Neutrality Activists Picket Pai
Last Thursday we printed our chant sheets, bought a couple of dollar-store ponchos, had a sign-making party and picked up a bullhorn we'd borrowed from the Washington Peace Center. We had work to do. On Friday, FCC Chairman Ajit Pai was continuing his speaking tour of lies about Net Neutrality to the right-wing elite. The forecast called for heavy rain, but Free Press and our allies weren't deterred. If Pai wouldn't come to the American people, the American people would come to Pai.
Last month, Trump's FCC chairman unveiled plans to destroy the agency's historic Net Neutrality rules and give control of the internet back to giant telecom corporations like AT&T, Comcast and Verizon. Since then Pai has been making the rounds lying about the impact of the open-internet protections and supporting corporations like his former employer, Verizon, instead of the people he's supposed to serve.
Pai gave his first speech outlining his destructive intentions at FreedomWorks, the "think tank" of the Tea Party. He's followed up by doing interviews with right-wing talk-radio personalities like Glenn Beck and Rich Zeoli. Last Friday, Pai spoke at the American Enterprise Institute (AEI) about his desire to "slash rules" that benefit the public.
Free Press and a small group of allies and local activists from groups including Demand Progress, Faithful Internet, Popular Resistance and Women's Institute for Freedom of the Press stood outside AEI with large banners and homemade signs. We sent a clear message to Pai that wherever he goes, we will follow (and in fact last week's action came on the heels of one we organized in April, when we rickrolled Pai at the FCC's monthly open meeting). Wherever Pai spreads corporate lies, we will bring the truth (and megaphones).
The truth is, this fight is bigger than just the FCC chairman. If the resistance wants to have the tools to organize and fight aextreme interests represented by the Trump administration and his white-nationalist collaborators like Jeff Sessions (another former Pai boss), we have to show up for Net Neutrality and the open internet all across the United States. We all have to take on the work of educating, organizing and mobilizing locally.
Here's what you and your friends can do today:
Scroll below for a few photos from last Friday's event and click here to see the entire Flickr album.
Photos courtesy of Maria Merkulova