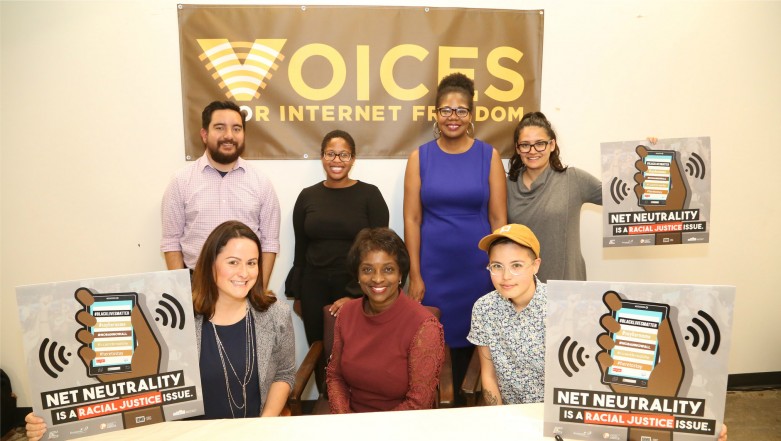 Voices for Internet Freedom Forum in L.A.'s Skid Row Lifts Up Community Voices
FCC Commissioner Mignon Clyburn confessed "that a small part" of her was feeling "a little down" when she arrived at the Los Angeles Community Action Network in the city's Skid Row neighborhood on Wednesday for a public forum on internet-related issues.
Clyburn was referring to the "entrenched forces" on the other side of policy debates who "seemingly refuse to listen" when it comes to the impact of such decisions on everyday people.
It's easy to understand why her spirits were down. As the lone Democrat on Trump's Federal Communications Commission, Clyburn is fighting to prevent Chairman Ajit Pai from gutting rules to protect Net Neutrality and increase broadband adoption in low-income communities.
But her mood changed shortly after her arrival when she met a woman named Frenchy prior to the forum.
Frenchy, once unhoused, told Clyburn that "even when she was at her most challenged time" she could go online, which allowed her to remain on the "radar screen" because she had an internet address. And as Clyburn noted, this meant Frenchy had an identity, an address and a way to stay connected.
"She reminded me what time it is and why we are here and why this is so important," Clyburn said.  
For the next two hours, Clyburn heard stories from Los Angeles residents on why the internet is so critical to the health and well being of their communities. The forum was hosted by Voices for Internet Freedom — made up of the Center for Media Justice, Color Of Change, Free Press and the National Hispanic Media Coalition — along with 18 Million Rising and Common Cause.
Susan Price recounted how access to the internet at a public library allowed her to find a shelter and eventually find housing. Marco Castro Bohorquez, a health and wellness activist who's currently unhoused, discussed how he's able to speak with culturally relevant therapists in Fresno, California, and Argentina through Skype to address his mental-health issues. 
Lourdes Pablo discussed the challenges she faces as a senior trying to connect to the internet on her cellphone to find work as a caregiver. And Takouie Daglian said that without the FCC's Lifeline program, which serves people in need, she wouldn't be able to afford telephone service.
Britney Galindo, a college student, said she's struggled to stay in touch with her father — who's incarcerated — due to the high cost of prison-phone rates.
Speakers also explored how institutional and structural discrimination has harmed poor communities.
"General" Jeff Page, a Skid Row resident who was previously unhoused, criticized capitalism for producing trickle-down solutions that don't reach the communities most in need.
And when it comes to broadband, those trickle-down solutions evaporate long before they reach many streets and communities in Los Angeles — and in places around the country.
Hernan Galperin, a professor at the USC Annenberg School for Communication and Journalism, discussed his mapping of broadband in Los Angeles; he found that broadband adoption among the city's White residents is 20 percent higher than it is for Black and Latinx residents. He cited cost as the primary reason for the disparity due to a lack of competition in the broadband market.
And that disparity has harmed Black and Latinx students.
Fifth-grade teacher Melissa Baranic said the families of many students she's taught can't afford home internet access, which places their children at an educational disadvantage.
But the internet has also enabled people of color who do have broadband service to create culturally relevant content that resonates with their communities.
Denise Cortes, an artist and mother of six, has earned a living from her blog — PearMama.com — that's allowed her to reach and connect with Latinas who she doesn't see represented on TV or in magazines.
Taz Ahmed, a campaign strategist at 18 Million Rising, co-hosts the popular podcast #GoodMuslimBadMuslim, which she described as a conversation between two Muslim feminists that challenges the corporate media's portrayal of Muslim women.
Tia Oso, a national organizer at Black Alliance for Just Immigration, said that Net Neutrality is a racial-justice issue because it's enabled her organization to organize and bring greater awareness to the challenges facing Black immigrants across the country.
And Sylvia Moore of California Common Cause said that Net Neutrality is critical to civic engagement and promotes participation in our democracy.
Clyburn said the event lifted her spirits because those in attendance know what time it is — just as those in the community know what time it is when it comes to what's happening in Washington.
As Jessica Gonzalez, deputy director and senior counsel at Free Press, noted:
It is not lost on any of us that while Commissioner Clyburn is here listening to the people that FCC Chairman Pai is cooking up plans in Washington with corporate lobbyists behind closed doors that prioritize corporate profit over human impact. It's no wonder that Commissioner Clyburn has been a champion of the people throughout her tenure at the FCC while Chairman Pai has been a champion of cable, telephone, internet and broadcast companies.
Watch the video of the forum here.
Scroll below for some photos from Wednesday's event:
Photos courtesy of Brian Biery